Portrait
The Epigenetics Mountaineer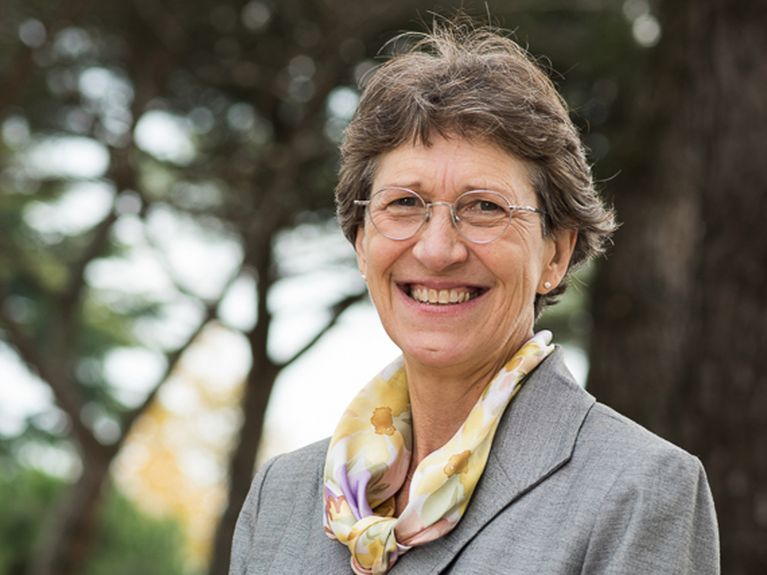 Susan Gasser's spirit of adventure was what led her from the United States to Switzerland – where she has since been making a substantial contribution toward understanding the role of memory in genetic material.
Susan Gasser remembers the experience of reading one particular book as absolutely electrifying. She thinks she must have been about 20 years old when, as a young philosophy student, On the Origin of Species by Charles Darwin fell into her hands. "I knew instantly that this was something worth studying in detail," Gasser recalls. Today, she smiles in amusement at how reading this one book led her away from the path she had planned; but it was a difficult decision for her at the time. She changed her field of study, switching to biology at the University of Chicago, thereby laying the foundations for a career in research that would catapult her into the ranks of the world's leading epigenetics experts.
"I'm easily satisfied by the very best"
A significant factor in this success is undoubtedly the attitude to work Susan Gasser has prominently on display in her office. There is a poster of Winston Churchill on her door with his famous quotation, "I'm easily satisfied by the very best." Susan Gasser nods seriously – this one sentence very elegantly expresses an attitude that is also decisive in the world of science. And this small side note illustrates something else, too: the way in which she herself playfully switches between two languages and two worlds – English, her mother tongue, and German, which she often uses in her daily life. Susan Gasser's office with its Winston Churchill quotation is in Basel, Switzerland, where she is director emeritus of the Friedrich Miescher Institute for Biomedical Research. She has taken all the major steps in her career in Switzerland – "for me, the move to Switzerland began as an adventure," she recalls, "but the decision determined my future path."
This Swiss adventure began with a love story. Susan Gasser met her future husband, a Swiss man, when she was a philosophy student. When it was time for both of them to write their doctoral theses, they decided to go to Switzerland. "We were 22, maybe 23, years old and I thought I'd go straight back to the US after my doctorate," Susan Gasser recollects. At that time, she had already enjoyed a number of positive experiences in Europe, having spent a year in Sweden on a scholarship and lived in Freiburg, Germany, and in France for six months respectively. And now she was to join Europe's scientific community. Although she wrote her PhD thesis in English, Susan Gasser recalls that German was the language she used in everyday communication – and it's something she's thankful for: "The German language has a lot of rules. You need to think and write a bit more carefully than you do in English; perhaps there is a connection between this and the very precise way of working," she says. This degree of precision in work and language is something she feels helped her a great deal, especially as a student.
In 1986, after her doctorate in Basel and a postdoctoral position in Geneva, Susan Gasser took up the post of Group Leader at the Swiss Institute for Experimental Cancer Research in Basel. To begin with, she researched the three-dimensional structure of the genome, later shifting her attention to epigenetics – the study of how genes are expressed and inherited. "In simple terms, it's about memory in genetic material," she explains. During a lifetime, environmental factors have an effect on genetic material, and a person's lifestyle can change the way their genes are regulated. It is unclear whether or not the human genome has a memory that allows a modified gene expression to be inherited. In some simpler organisms, this does seem to be possible.
Outside the laboratory, Susan Gasser is driven by two things – the first being mountaineering. "I started doing it here in Switzerland," she says, "I've climbed several 4,000-meter peaks." Then she adds that she takes the easy routes and doesn't scale vertical rock faces. Her second passion is supporting young female scientists. "The topic of life partners enjoying dual careers is very close to my heart," she says, "it's the very same question my husband and I were confronted with 40 years ago." As a couple, the Gassers managed to find the right balance between family and career; their 33-year old son is now a professor himself. This dedication to others was one of the reasons Susan Gasser was presented with the Women in Science Award, with the jurors explaining their decision in unambiguous terms: "She is a role model for female scientists in Europe and beyond," they said in their congratulatory address.
Now that she has gained emeritus status, Susan Gasser herself sees many things in a new light. "Some of my students will be more successful than I've been myself," she says. This statement speaks volumes about her modest nature and gift for understatement – as well as revealing a touch of pride. She explains that, for her as a scientist, the fact that she has been able to pass something on is the greatest reward.
The Strategic Evaluation of the Research Field and their Research Programs
Between September 2019 and February 2020 , Helmholtz's research was evaluated bx high-ranking international experts. The strategic evaluation aims to review the strategic plans of the research field and to propose a basis for the distribution of funding among the programs. Susan Gasser was chair of the high-caliber panel of international recognized experts.
The Strategic Evaluation of the Research Field and their Research Programs
As curious as we are? Discover more.