H2Atlas-Africa
Green hydrogen for the energy transition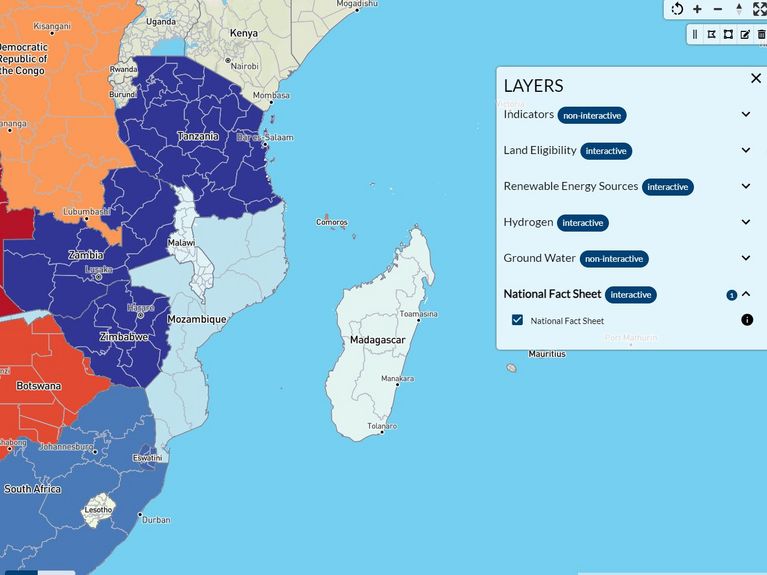 Hydrogen is seen as a central building block for the energy system of the future. This is because it can store surplus electricity from renewable sources, is relatively easy to transport, and can be converted back into other forms of energy such as heat and electricity. Hydrogen also plays a major role in the chemical industry and is used, for example, in the production of synthetic fuels.
The demand for hydrogen will therefore increase enormously in the future. What is clear is that we will not be able to meet the entire demand for green, i.e., regeneratively produced, hydrogen in this country. "We estimate that Germany can produce about half of the 12 million metric tons of hydrogen we calculated it needs itself," says Detlef Stolten. This is what the head of the Institute for Energy and Climate Research at Forschungszentrum Jülich (FZJ) and his team calculated in an overall analysis of the German energy system. "Of course, we also took the cost side into account, and one thing is particularly interesting: We can produce a large part of our hydrogen requirements ourselves in Germany more cheaply than importing it." Conversely, however, this also means that we have to buy in the other half. "I think importing is right, important and necessary," says the fuel cell expert, adding that "To ensure energy security, hydrogen must become an international commodity."
Business plan for an optimal hydrogen economy
To find potential partner countries for importing green hydrogen, one must know the potential for producing hydrogen from renewable energy sources. The Jülich team wanted to find out what these are, specifically in southern and western Africa, as part of the "H2Atlas-Africa" project commissioned by the German Federal Ministry of Education and Research (BMBF).
The aim of the project is to create a win-win situation for the African countries and for Germany. The atlas is an important basis for this, as it enables those operating locally to quickly identify worthwhile areas for hydrogen production, attract investors, develop demo projects and thus build up their own sustainable and independent value chain step by step. This would not only support the rapidly growing economies in these countries. It would simultaneously counteract climate-damaging emissions that have been firmly associated with the rapid growth of economies in the past. Germany, it is hoped in Berlin, would in turn benefit from a growing hydrogen world market by gaining reliable partners to trade in the valuable resource.
"We calculated the potential for hydrogen production from the potential of renewable energies at the locations," Detlef Stolten tells us. This all happens entirely virtually on the computer with sophisticated models and algorithms that the Jülich scientists have developed and refined for such analyses. "Our starting point is always the land area of the regions to be studied in square kilometers," he explains. "And from there we approach it with close to 30 exclusion criteria." These are all the places where renewable energy facilities definitely can't, and shouldn't, be placed. Settlements, for example. But also roads, power lines and rail lines. "Nature reserves, too, of course," says the researcher. "And anything else where logically you just can't build." Water areas, swamps and forests are excluded, as are areas with slopes of more than 10%. That's because building in mountainous areas is simply more difficult. What remains is an area that could theoretically be covered with renewables.
In an earlier project Stolten calculated that in Germany the figure is 2% of the continental area. "And we then build on that with the corresponding renewables," he says. "Virtually through our algorithms, of course." This results in a potential calculation. That means wind turbines and photovoltaic systems are in the computer, quite possibly in competition with each other. "Then we add the weather data and see, for example, where there is very little wind and therefore the electricity from wind turbines becomes quite expensive." But maybe the sun often shines in those places? Then the algorithm favors photovoltaics there. Because in the long run, photovoltaics will probably supply the cheaper electricity there. "From all this information, the program then develops areas where renewables could be built. This results in a truly cost-oriented, sensible distribution in the form of an atlas."
But that is only half the battle for the hydrogen economy. The gas in demand is produced by breaking down water with renewable electricity. This process is called electrolysis. Stolten's team members have investigated whether the water needed for this process should come from seawater desalination. Ethical reasons alone prohibit diverting the not inconsiderable quantities from drinking water reserves. "We calculated the cost of desalination at less than 0.5 cents per kilowatt hour of electricity," says Detlef Stolten. "So in a very, very small range. And that makes it affordable." In addition, the researcher and his team entered all the data and processes needed to virtually build an electrolysis plant and a transport network into their system. Of course, this included appropriate considerations such as the liquefaction of the hydrogen and the subsequent transport, to Germany, for example.
Promising data and great interest
"We have identified various hotspots for hydrogen production in several countries in western and southern Africa," says Solomon Nwabueze Agbo. The physicist from Forschungszentrum Jülich coordinates the "H2Atlas-Africa" project.
"Our results have shown that the region is generally attractive for green hydrogen production." In this regard, he is certain that the atlas is a very important tool for building a hydrogen economy. "It provides insight into the potential and opportunities at the regional level, but also at the country level." That would help investors choose locations. "So the engagement between German and African players can be greatly facilitated by the science-based facts of the atlas," says Solomon Agbo. "Because it's always good when policies and investments are based on science-based facts."
The atlas is freely accessible on the Internet. "In addition, we have produced fact sheets for each country based on the results of the atlas. These are also freely available." The same is true for many of the tools used by the scientists, which are made available to the community as open source. So far, there has been a lot of interest in the information provided. "The atlas is being used very intensively," confirms the project coordinator. He also said that initial bilateral discussions are already underway on this basis. "Several countries in the region are working on developing a hydrogen strategy," he explains. "At the level of the West African Economic Community ECOWAS, for example, a regional hydrogen policy will soon be launched."
As curious as we are? Discover more.