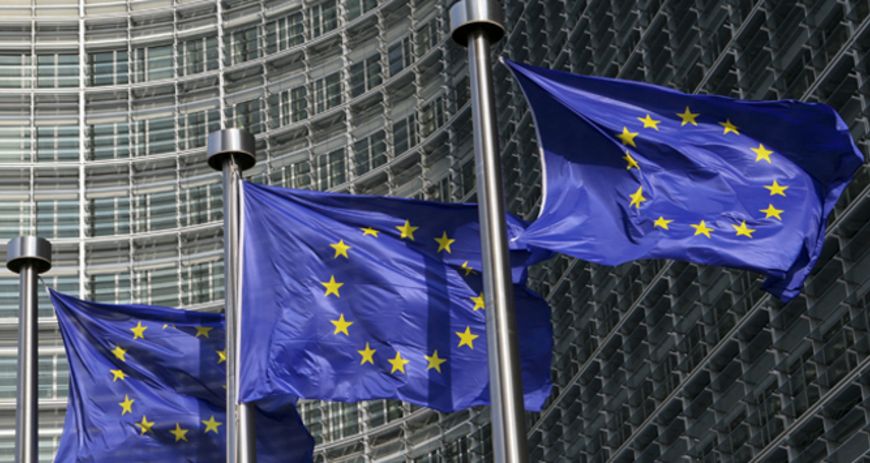 Brexit debate
The impact on science
In a few days, the British will decide whether or not they want to stay in the EU. What would the UK's departure mean for science on both sides of the English Channel? Researchers comment on a potential Brexit.
---
Karen Helen Wiltshire,Vice Director of the Alfred Wegener Institute - Helmholtz Centre for Polar and Marine Research
Iain Mattaj, Director General of the European Molekular Biology Laboratory
Otmar D. Wiestler, President of the Helmholtz Association
---
Karen Helen Wiltshire: "Why should Britain leave the European Union? This potential "BREXIT" is a question, which, on the outset, I admit to not taking too seriously. After all Britain was the nation which in recent history always was considered an example of collaborative union (Commonwealth) and to me it had been "leaving" Europe on and off since the beginning of the EU. I thus put it down to the usual EU diversity and ensuing discussion, which, interestingly, often flares up when times get a bit rough overall. The instinct is then to question as to whether the common good also reflects one´s own interests. The reasons for this are simply that some might be under the illusion that the pie at home might be larger without all the EU "sharing". The BREXIT question cannot even reflect the fear that the British may potentially be diluted as a culture or even whether their national identity as a whole may somehow be at stake. To date, the UK has been expert in upholding British-ness throughout all EU discourse. Why should it suddenly doubt that it can no longer uphold these values? There is no new reason for this as far as I can make out. Thus, one cannot reduce the BREXIT question merely into the question as to whether or not one´s own national "sausage" may or may not survive in the EU on the long run.
Survival in this Earth System is about diversity. Survival is definitely not guaranteed by isolation. It is interesting to note that in the course of 45 million years of being on this planet, humans are represented by only one species namely: Homo sapiens. All of the other human species, and there were at least six others along the way, have been either absorbed into H. sapiens or they have been eradicated. Homo sapiens has not been exemplary in terms of integrative tolerance in the past, nor is it as yet, as currently evinced in so in many places on this Earth.
The EU can be considered to be about diversity and tolerance. Nowhere else in the world is there such a union. All other unions have one upper leadership. Nowhere else in the world is dialog and interaction so important in the shaping of mutual interest, as in the EU. The EU is defined by civil discourse to a peaceful solution. The things we are good at in Europe in science, engineering and medicine are largely a product of integrative joint ventures and amalgamation of expertise.
In my opinion the EU is quite special in Human terms, because, while trying to be a sociable Union of peaceful Human interaction it also strives to allow and to foster cultural diversity. In my opinion this also underpins all creativity, innovativeness and excellence in Europe and especially so in our European scientific endeavour.
Why would one want to return one´s country to an isolated position on the edge of Europe? The concept baffles me in its´ short-sightedness, quite frankly. Especially so, since the UK helped shape the multi-cultural Europe as it is today and even fought for a tolerant peaceful Europe in two world wars. Surely only a small percentage of modern man can seriously believe that isolation and nationalism are the sensible and civilized way forward. Maybe it is time for us all to actually live up to our " high-falutin´ " name "Homo sapiens" meaning " wise human", and realize that it is only through tolerant diversity that we can guarantee well-being, excellence, and sustainability and thus, survival on this environmentally overwrought Planet. Without joint research, planning, mitigation and adaptation, human sustainability is a dim hope. Without the European example we have no good drawing board. So let´s hope the UK forgets BREXIT and isolation and that it continues along its historical course of civilization, integration and peace. Britain has been a leading nation in that it fostered "world" tolerance, Commonwealth and Europe. To me it is inconceivable that all of a sudden Britain might turn itself into a nation isolated on the edge of Europe and that it might no longer welcome diplomacy and civil discourse with its neighbors. Not only would social and cultural interaction suffer, but science, engineering and medicine, which so often are driven by integrative international joint ventures and based on synergistic expertise, are likely to become less excellent and less bright.
To me, based on simple scientific terms: BREXIT is isolationary and thus, not a viable model for viable survival."
Karen Helen Wiltshire is Vice Director and Head of AWI Helgoland and AWI Sylt. She works at several scientific institutions in Germany, Scottland ant the Netherlands before she joined the AWI in 2001.
---
Iain Mattaj: "Research is by its nature an international enterprise, which thrives on cross-border collaboration. For this reason, much of today's most ambitious and high-impact research is collaborative, with scientists from different backgrounds and countries pooling their knowledge to tackle global challenges. In this context, one of the most significant benefits that the EU framework programmes afford research in the UK is to facilitate such international collaborations.
A significant proportion of today's large-scale, long-term collaborative projects are supported through the EU funding programmes. The loss of the links created through these programmes would perhaps be the most significant consequence for UK researchers of a possible Brexit. Science in the UK, which is one of the largest recipients of EU research funding and which is particularly successful in attracting prestigious ERC awards, could potentially experience a significant negative impact.
Another cornerstone of successful research endeavours is access to large-scale international research infrastructures. Researchers in the UK gain significant value from such infrastructures, located both within and outside national borders, through dedicated EU support for access. Finally, clinical trials of new drugs in Europe are now organised and evaluated by the EC on behalf of its members. The UK pharma industry is the strongest in Europe, but would no longer be a participant in European trial programmes if Brexit happens."
Iain Mattaj was born in St Andrews, Scotland. He attended the University of Edinburgh, Scotland, and the University of Leeds, England. Following his PhD, Iain carried out postdoctoral research in Switzerland. In 1985, he joined EMBL as a Group Leader at the Heidelberg laboratory and was appointed Director General of EMBL in May 2005.
---
Otmar D. Wiestler: "Thursday, 23 June 2016 could be a fateful date – not just for the UK but for the other 27 members of the EU, too. By voting on whether or not they wish to remain part of our community, the British are putting many things at risk that all of us have come to take for granted. Originally established as an economic community, the EU has come to represent a great deal more than a guarantee of prosperity and growth. It is not just a common market; today it stands for much more – for freedom of movement, for stability, and for a strong scientific community that can hold its own in the international competition.
One of the reasons why the European research community is so strong is the scope that it offers researchers. Brilliant minds need to work together in close creative collaboration if they are to make exciting new discoveries. And that is what makes the EU such a powerful force. Every day, new joint research projects, clusters and networks are founded. These create synergies that help make the European research landscape so unique in the international competition. Many outstanding scientists from the UK are essential partners in these networks. As citizens of a non-EU country, they would find it much more difficult to take active part in them in the future.
Moreover, we European scientists also use the large research facilities of our partners in neighbouring countries or operate them jointly. Britain is substantially involved in these sites of lively scientific exchange, which include the European Southern Observatory (ESO), the European Spallation Source currently being built in the Swedish city of Lund, the ITER thermonuclear reactor in France, and many other globally unique science hotspots. In leaving the EU, the UK would call its role in all those ventures into question – and would have to renegotiate its participation in a series of long-winded processes. That isn't likely to work out to the country's advantage.
Our productive community is a major factor motivating many excellent researchers from all over the world to come to Europe, where their expertise and knowhow can flourish in collaboration with our scientists. A Brexit would constitute a termination of this commitment from a portion of our community and would send out a remarkably inauspicious signal from Europe to the rest of the world. But the impact on the British scientific community would be even worse. UK researchers would become mere spectators to all the important collaborative efforts.
A Brexit would have an equally detrimental impact on British scientists' involvement in and shaping of the EU framework programme Horizon 2020. Currently, they are involved in the programme in numerous ways – as participants in research projects or as project coordinators. Is that really something they want to give up? Don't they even want the financial benefits? Almost 16 percent of the Horizon money goes to the UK, placing it second in the list of recipient countries.
The majority of British scientists are opposed to the United Kingdom leaving the EU. I hope that a sufficient number of British voters will share their opinion on 23 June. A Brexit would be a painful loss for us all. Today and in the future, productive science is and remains a community matter."
Otmar D. Wiestler is president of the Helmholtz Association. studied in Freiburg (Breisgau, Germany). Between 1984 and 1987 he was a postdoctoral researcher at the University of California, San Diego, USA. He then changed to the University Hospital Zurich in Switzerland. In 1992 the University of Bonn appointed him as Professor for Neuropathology and Director of the Institut für Neuropathologie. Between January 2004 and August 2015 Professor Wiestler led, as Chairman of the Executive Board and Scientific Director, the German Cancer Research Center in Heidelberg (DKFZ).