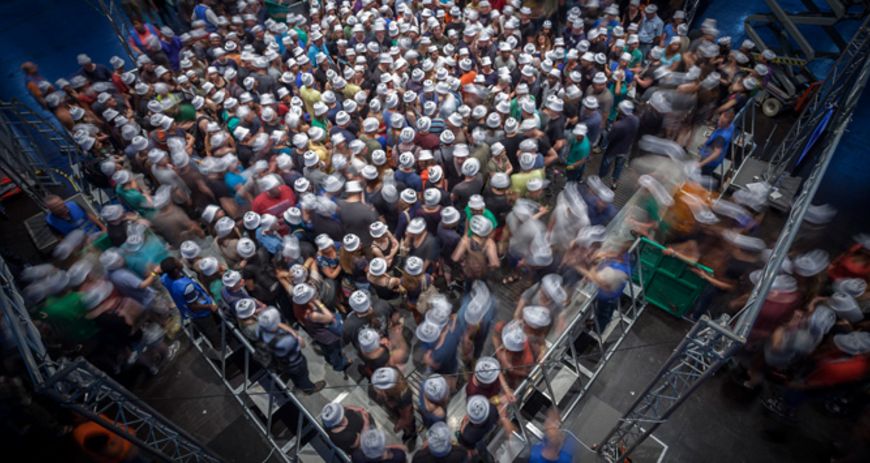 HELMHOLTZ extreme
The largest pedestrian experiment in the world
When many people are packed together in a small room, it gets cramped – and sometimes dangerous as well. In order to better understand jostling at large events, scientists from the Forschungszentrum Jülich invited 2000 test subjects to come to the Düsseldorf Exhibition Centre, and observed the behaviour of the crowd.
When many people are gathered together in a confined room, cosy close contact can quickly turn into uncomfortable confinement – for example, after a concert, when the whole audience suddenly surges towards the exit. If the melee continues to increase, it inevitably becomes dangerous; this was the case in 2010 at the Duisburg Love Parade, in which 21 people died in a crowd, and 500 were injured. Only limited research has been conducted regarding the way that human beings move when they are part of a crowd. And comparisons with fluids or molecules are of little help; after all, pedestrians always follow a certain strategy. To learn more about this, scientists at the Forschungszentrum Jülich started a large experiment in 2013. 2000 test subjects were invited to come to the Düsseldorf Exhibition Centre – there had never been a larger-scale experiment with pedestrians.
For four days, the research scientists funnelled them through narrow, and then wide passages, over intersections blocked by barriers, and into rooms that became increasingly claustrophobic. Fluctuating marginal conditions such as urgency or inserted traffic signs provided additional findings. The events were documented by 24 cameras. Quick-response codes (QR) on the hats of the test subjects facilitated individual movement profiles. 42 terabytes of data were compiled by the team led by Armin Seyfried and Stefan Holl. For this joint project "Safety and Security Modules for Large Public Events" (BaSiGo) funded by the Federal Ministry of Education and Research (BMBF), computer models are being generated that pre-calculate how crowds of people move at events. Hazardous congestion and structural safety gaps should thus be able to be avoided in the future.
You can access all archived editions of HELMHOLTZ extreme here: www.helmholtz.de/extreme