Preservation of collections
The silent death of books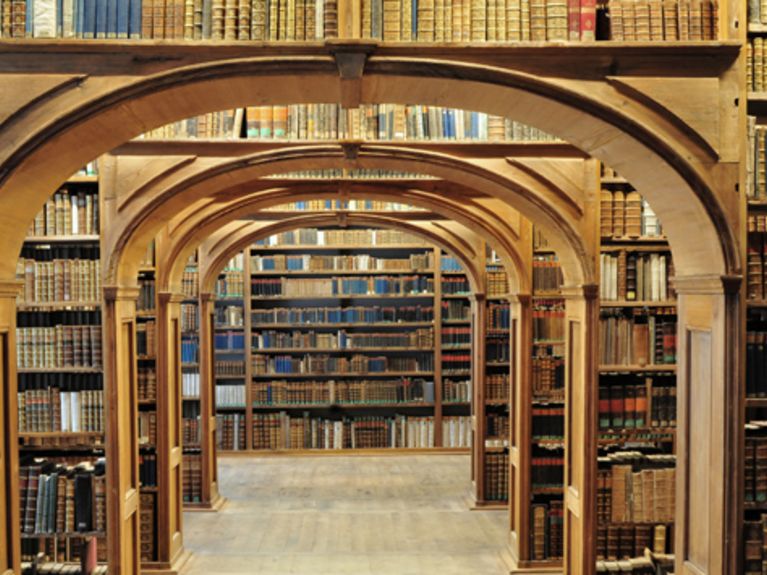 In libraries and archives acid disintegration is incessantly eating away at valuable books. Preserving them is quite complicated and expensive. What is preservation of our cultural heritage worth to us?
A major fire destroyed an institute of the Russian Academy of Sciences in Moscow on 30 January. In the "Library for Scientific Information in the Social Sciences", 15% of the books were allegedly damaged. The fire had just been extinguished when the first offers of help arrived. A similar situation beset the Duchess Anna Amalia Library in Weimar und the Historical Archive of the City of Cologne. Fire and water damage show us that cultural assets are transient. Much worse, but almost disregarded by the general public, another danger is waiting in the wings.

"Matter disintegrates", says Ursula Hartwieg. This simple phenomenon does not stop at precious books. "These things will crumble away in our hands if we don't do something about it." Hartwieg directs the Coordination Office for preservation of written cultural assets (KEK) in Berlin. The facility was founded in 2011. Annually, they receive 600,000 euros in order to promote model projects, to coordinate aid, and other things. The lion's share comes from the Federal Government, even though culture is an individual Federal State issue. Preservation of collections sometimes even falls within the scope of various ministries.

Libraries and archives can certainly use all the help they can get. Protection of valuable collections begins with the building itself, with water-proof roofs and secured cables and with proper humidity and room temperature. Particularly precious volumes have to be stored in a special way. Well-trained personnel have to be able to recognise risks and be able to repair damaged books. All of this costs money. In a 2009 memorandum, the Alliance for the Preservation of Written Cultural Heritage is talking about the necessity for 10 million euros per year. In order to check deterioration, it would have to be even more, since the problems have increased over the years. "There are still previous damages in the libraries that go back a long way", says Hartwieg.

One of the greatest issues is acid decay. This involves printed matter from approximately 1840 until 1990. At this time mass printing was carried out and paper was manufactured by industry. When the books get old, they become brittle and fragile. About four million works are impacted by acid decay in the Bavarian State Library. The estimated damages are serious when the stock is so big", says Tobias Beinert, advisor for stock preservation at the Bavarian State Library in Munich. "We are well on the way, but it is a daunting task." Libraries and archives have to have their stock deacidified. This involves immersing the books in a deacidification agent so that the acid neutralises. Finally, the solvent is removed by means of a vacuum.

This is a time-consuming procedure: "It would take about 20 years to deacidify the recognised books worthy of protection", says Jürgen Neubacher, responsible for historical stocks and stock preservation, special collections, handwritten music and printed music at the Staats- und Universitätsbibliothek Hamburg. And deacidification is not possible for every book. "Volumes with red stamping ink or red bindings are difficult to deacidify", he says.

The Technical University of Freiberg in Saxony has about 500 kilos of books deacidified annually. The University Library in Leipzig even has a tonne deacidified annually. Saxony has, as do Bavaria and Baden-Württemberg, a State programme that funds stock preservation. Deacidification of collections in the University Library Leipzig alone costs 20,000 euros per year.

And the next risk already awaits us in the shelves. Most dissertations from GDR times were produced with a procedure that allowed the tints to increasingly fade. "We are afraid that one day they could disappear entirely – and along with them the scientific history of a whole nation", says Almuth Märker, scientific librarian at the University of Leipzig.

Digitalisation can help in the preservation of collections. It makes the books more accessible and protects the originals, because they no longer have to be loaned out. It does not solve all of the problems. First, the digitalised information also has to be saved: "A 100 year-old, acid-free book can be opened and read, a 15 year-old Word Document on the other hand – possibly not", says Beinert. Second, the originals have to be preserved nevertheless. Not only as a reference; rather also because tints, paper or book spines contain information as well that is of value to research. "Collection preservation is an on-going task", concludes Ursula Hartwieg from the KEK.
As curious as we are? Discover more.