Interview
"Research needs open communication"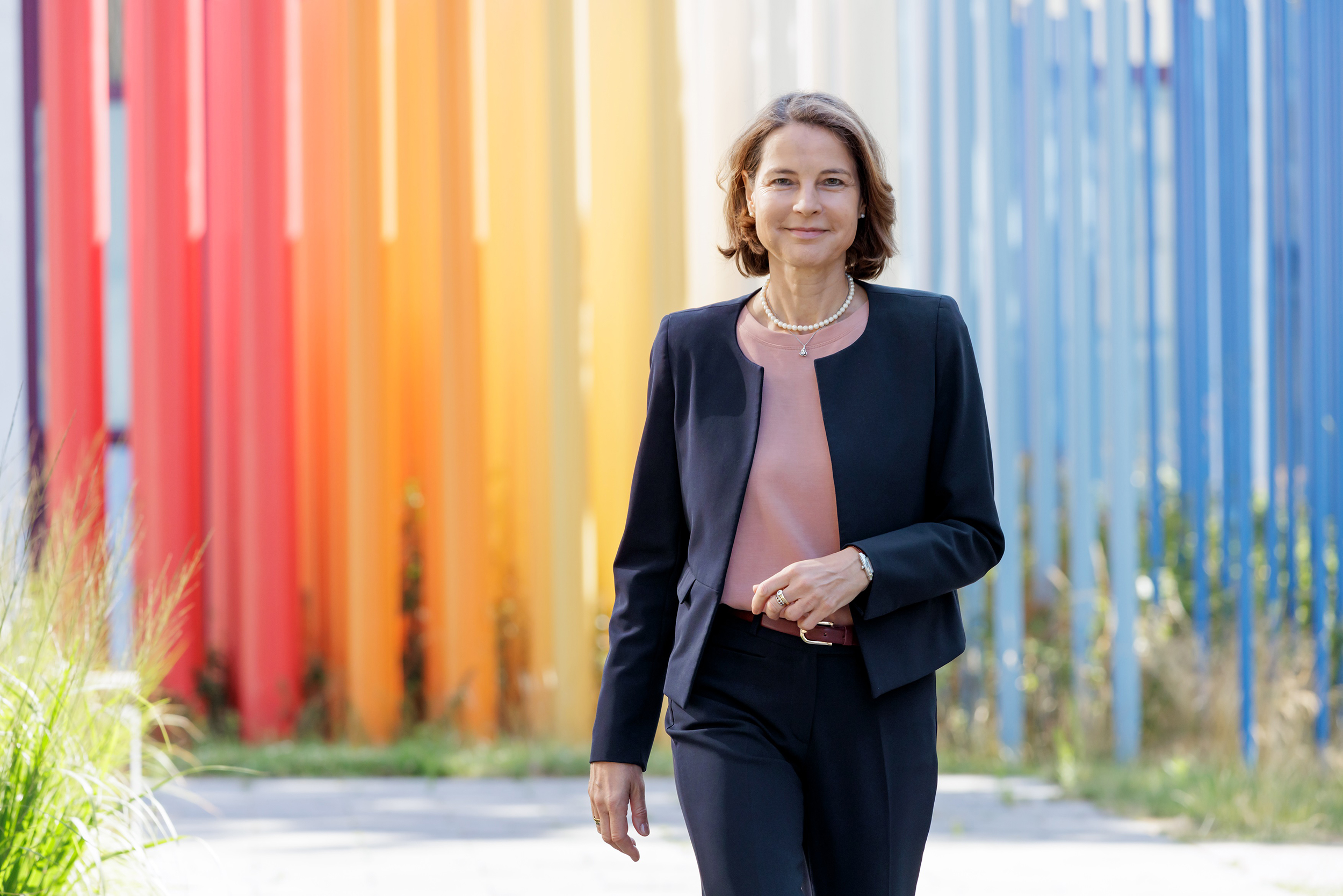 The new Chairwoman of the Board of Directors of Forschungszentrum Jülich, Astrid Lambrecht, in an interview about an innovative management style, her path to quantum physics, and how she wants to position the research center.
(laughs) Yes, by now I have. But it really does take time: So many years abroad have left their mark on me, of course.
What did you learn about Forschungszentrum Jülich after your return with your fresh perspective from outside?
I learned that Forschungszentrum Jülich is an incredibly complex system, in the best sense of the word. The main reason I find the work here so exciting is because of our three focus topics: Energy, information and sustainable bioeconomy. The potential for the future in these areas is enormous and is further enhanced by the interrelationships between them.
This structure already exists. What new priorities would you like to set during your term of office?
I would like to further strengthen interdisciplinary collaboration in our multi-thematic center. I am convinced that many of the major challenges of our time can only be solved on an interdisciplinary basis, and we have already paved the way for this with our focus topics. Of course, this should not mean that we neglect the work within the disciplines: Interdisciplinarity is only as good as its basis in the individual disciplines. Without excellence there, you slide into mediocrity.
Be specific: What steps would you like to take to strengthen interdisciplinarity?
The institutional and organizational structures we have in Jülich are good. But I also want to promote informal cooperation and mutual understanding. In this case, by the way, I'm not just talking about science, but also about the interaction between research, administration and technology. That's precisely where I'd like to initiate a cultural change and strengthen the sense of togetherness. Because one thing is clear: We have the best conditions for networking, because we sit close together on our campus and can talk easily. This is also related to what I did on my very first day at work....
What was that?
I invited the entire second tier of leadership to talk about my ideas and where I want to go. And also to show what my leadership style is like. I am convinced that research requires open communication, transparency and the ability to listen. You can't do that without a basis of trust. This is also why it has always been important for me to regularly and intensively immerse myself in concrete research, because I want to know what is being worked on and where the changes and challenges lie.
Quantum computing and artificial intelligence are considered to be major social issues of the future. How would you like to position Jülich there?
We want to expand our collaboration with international research institutions and companies, as well as start-ups in the region, and contribute to further strengthening NRW as a science location in Europe. Against this backdrop, we are also active in the network "One Quantum NRW" in the field of quantum technologies, in which the NRW Ministries of Economics and Science are also involved. The aim of the network is to bundle competencies in NRW and directly involve industry in the process.
In the field of information, we in Jülich have a special task and responsibility, since the first European exascale computer, "JUPITER", will go into operation here next year. Exascale computers are computers that will be crucial in the field of artificial intelligence (AI). "JUPITER" is a supercomputer with more than one trillion computing operations per second. Worldwide, this will be one of the first computers of its kind. This is a huge opportunity to develop so-called Large Foundational Models, large-scale machine learning models that have been trained on broad datasets and can be adapted for a variety of applications.
The exascale computer here will operate in an environment with other supercomputers and early quantum computers. We will make this computing infrastructure available not only to the scientific community, but also to a wide range of European users from industry and the public sector. Overall, I would like us in Jülich to open up our research infrastructure even more to users outside the scientific community.
You yourself have had a long research career. How did you arrive at quantum physics of all things?
There were a few encounters that had a great impact on me. At the very beginning, I studied medicine, but then changed my subject after a few highly interesting physics lectures. And for a stay abroad, the trust professor of the Studienstiftung then sent me to Imperial College in London, to a quantum optics group. There I discovered the subject for myself and wrote my diploma thesis on it. After that, I wanted to go abroad again...
...and this time I went to France, where you stayed for a long time. What fascinated you there?
In France, experimental physics and theory are much more closely linked. People always say that quantum optics is incredibly difficult and abstract, and there I was suddenly able to work on experiments that made the theory from the books visible. That appealed to me so much that I stayed connected with France.
How far along was quantum physics at that time?
When I started, atom traps were just being developed, based on opto-mechanical phenomena that could be used to trap and store atoms. There was also research on special quantum states of light. I worked on that and later specialized in quantum vacuum fluctuations and the Casimir effect. During my postdoc period, I said to myself: Everyone calculates effects of vacuum fluctuations mathematically in the abstract, but actually, one must be able to calculate them in realistic experimental situations and compare them with the measurement results. With my research, I then became part of a wave in which the topic was just beginning to develop in many other parts of the world.
Let's look again at the present: You are, after all, also the designated vice president of the Helmholtz Research Field Information. What are your plans?
The particular challenge is to combine the forward-looking topics in a clear profile for the Research Field. In doing so, we have to make sure that we define the interfaces in such a way that all the Helmholtz centers involved are well reflected in them with their respective orientation and that we create synergies and clear added value through cooperation in the Research Field. It is important to me that the development of methods in the Research Field Information is not decoupled from the applications. To this end, the Research Field is undergoing a strategy process in which I, as designated Vice President, attach importance to jointly reviewing the current strategic orientation.
Personal Details:
Astrid Lambrecht has been the Chairwoman of the Board of Directors of Forschungszentrum Jülich since August 2023. In her own research, she specializes in quantum physics. After studying physics in Essen and London, she received her doctorate in 1995 at the Laboratoire Kastler Brossel (LKB) research institute in Paris. In 2002, Lambrecht habilitated at the Pierre and Marie Curie University in Paris. She gained experience in science management at the renowned National Center for Scientific Research in Paris, the Centre national de la recherche scientifique (CNRS), among other places. There, she was most recently Director of the Physics Division. In 2021, Astrid Lambrecht became a member of the Board of Directors at Forschungszentrum Jülich.
As curious as we are? Discover more.