Spin-off
"ExoMatter revolutionizes materials development"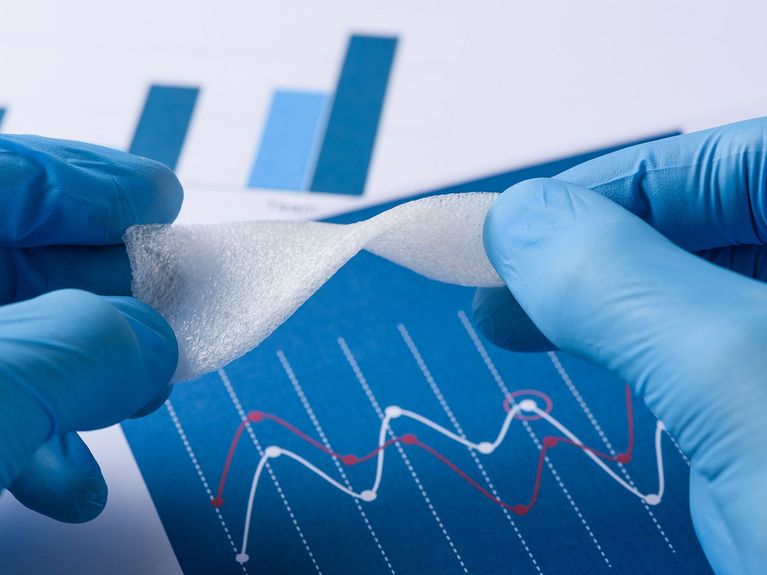 The spin-off project of the German Aerospace Center (DLR) ExoMatter has found a way to facilitate the search for suitable and sustainable materials for companies in almost all industries. Josua Vieten, Friedemann Call and Barbara Prähofer explain the details of their project to us in an interview.
With ExoMatter, you want to turn materials research upside down. What is your vision?
Friedemann: ExoMatter is revolutionizing materials development in almost all industries. To do this, we use large databases and find new or improved inorganic materials, for example, for new high-performance batteries or innovative solar cells. In the process, we look not only at technical and physical criteria, but also at sustainability issues and economic viability.
Josua: You have to know that material development in the laboratory is extremely time-consuming. It often takes a long time to find out which materials are suitable for a particular application. We have a better method. We use data, replacing trial and error in the lab, and can thus significantly cut the time needed to find materials.
How does that work?
Friedemann: Our customers tell us what technical requirements they have for the material, how expensive it can be, what environmental aspects should be taken into account and what else is important to them. And we look in databases that contain several hundred thousand entries, filter them and then find a selection of possible materials. We also interpret the results. This is necessary because the databases are not standardized and, especially with theoretically calculated material data, it is important to know and take into account the assumptions and limitations of the models used. This requires a lot of expertise and experience.
Joshua: Instead of a physical material, our customers then get access to their individual dashboard. This is a project database with the list of materials selected for them. It not only describes the properties that Friedemann has already mentioned. It also tells you, for example, for which of the selected materials patents exist and provides source information on relevant scientific publications. This saves a lot of work and time. Normally, customers have to research all this themselves from a wide variety of sources when selecting materials.
How did you come up with the idea of offering material design as a service?
Josua: I was a master's student at DLR in 2015 and supported Friedemann. My task was to find a new material for a specific application. I thought to myself, searching through all of them now is kind of stupid. But there were already databases where you could find the materials. And then I selected one from these. That worked really well right away. That was the first point that showed the potential. I then followed this path in my doctoral thesis. Since we kept hearing that there was great interest among companies in using something like this, we then developed the idea for our own startup.
Friedemann: I sat in the lab for several years and had to select the materials by hand. That's why I was amazed when Joshua established his idea with the selection from databases with us. Of course, it must also be said that databases in this form were only just emerging at that time. Ten or fifteen years earlier, this possibility didn't even exist. Then I left research for the time being, ended up at the German IPCC Coordination Unit for the Intergovernmental Panel on Climate Change, and worked a lot on the topic of sustainability. And that's when you realize that there are many questions where you can make progress with new materials. That was my impetus to start this company with Joshua. Because our approach makes it easier to find new, more efficient, sustainable, environmentally friendly materials.
Barbara: Two natural scientists with such a promising idea need someone who can also market and sell it. That's where I come in. I studied chemistry and business administration in my bachelor's degree and then specialized in entrepreneurship and management in my master's degree. So far, I've also worked as a business development manager and pushed digital sales. Then Joshua asked me if I wanted to help out, and now I'm part of the founding team.
Have you also been able to count on support from DLR and the Helmholtz Association so far?
Friedemann: Yes, of course. The support from the Helmholtz Association is extremely helpful. And DLR's technology management also looks after us very well. We exchange ideas on a monthly basis, and there are always workshops in between on topics such as how to negotiate, how to build a team,and how to write a financing plan. We get a lot of feedback. Then we also use the Helmholtz Association's Slack channel. There we can talk to other founding teams and exchange ideas. It's a very good way to start a company. It gives us a lot of security.
Josua: It may sound trivial now, but the financial support from the community also really helps us a lot. With the Helmholtz Enterprise spin-off program, we have 14 months of financial security, so we can exclusively take care of the start-up and the kick-start of the company. That's a very comfortable situation. It really helps us.
Let's take a look into the future. Where do you see yourselves and your company in three years?
Barbara: We want to create a platform that not only companies, but every scientist in every environment can use to do digital materials research. That's our vision. In three years, we hope that many thousands of users will be using our platform, who can also help each other and learn from each other.
Friedemann: The whole thing should then function as a subscription model. And anyone who wants more detailed studies can then order them from us. Like a premium package, if you want to put it that way.
Josua: Exactly. At the moment, we are working in exactly this way;: we offer pure services on a project basis. But that's not scalable in the long run. And that's why we want to move toward a platform business, toward software-as-a-service. In this way, we want to help establish digital material design. This is our contribution to solving the major and urgent challenges of the future.
As curious as we are? Discover more.