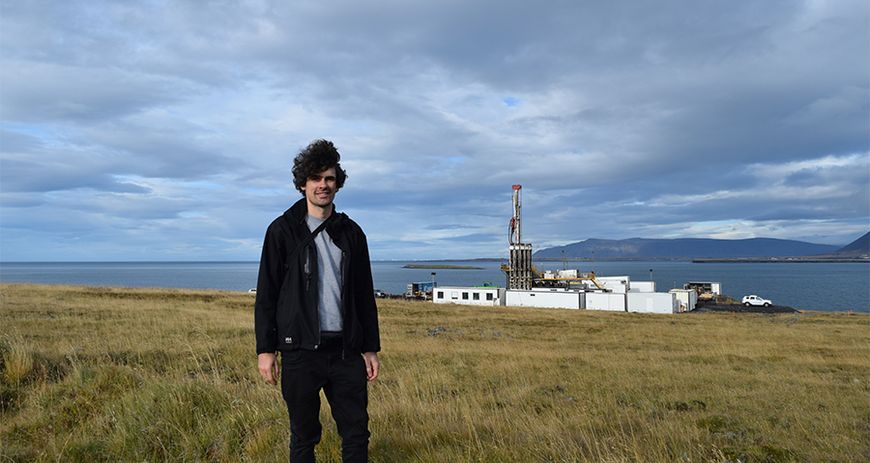 Helmholtz worldwide
Between hot springs and autumn storms
The Potsdam geotechnologist Hannes Hofmann ensures that more electricity can be generated from geothermal boreholes in Iceland. At the same time, he is keeping in mind that the boreholes do not pose any risk of earthquakes.
A barren landscape that slopes down to the sea, on the horizon a city with colorful roofs. This is the panoramic view from the 800 meter high mountain Esja near Reykjavik. It also extends to the temporary workplace of Hannes Hofmann: a geothermal energy plant on the edge of the Icelandic capital. Although it is only a three-and-a-half hour flight from Germany, Iceland with its volcanoes and geysers represents a world of its own.
"If you want to improve low-yield drillings, this can be accompanied by environmental risks - such as slight quakes.
It is geothermal energy that Hannes Hofmann from the Helmholtz Centre Potsdam brought to Iceland. Here the energy comes exclusively from geothermal sources - the hot rock underground heats the natural groundwater reservoirs. The extremely hot water is transported upwards via boreholes to generate energy from it. "But not every borehole is as worthwhile as one might have hoped," says the geotechnologist. Since 2017, Hannes Hofmann has been planning so-called stimulation experiments at various locations in the EU DESTRESS project. Together with his colleagues, he is trying out methods to help improve efficiency and "stimulate" the boreholes, hence the name of the experiments.
"We are interested - and this is important - in soft stimulation methods for geothermal energy projects. If you want to improve low-yield wells, some methods can involve environmental risks - such as slight tremors. We want to test procedures that avoid this and that we can control better". To do this, the 34-year-old spent five weeks in Iceland last fall, where he worked with local colleagues and researchers from ETH Zurich.
Last fall, the scientists were based on the Geldinganes peninsula, just a few kilometers from the center of Reykjavik. They set up their headquarters - a container - next to the borehole, which extends 1,500 meters into the depths. Only a narrow dam leads to the peninsula. It is cool and humid in October, just two to seven degrees Celsius, and it rains half the month. "But there was a special light over the landscape, I really liked this atmosphere," remembers Hannes Hofmann. There has been a borehole here since 2001, but its potential has not yet been fully exploited. Here they are now upgrading with new technology: Not enough hot water flowed naturally from the borehole. They therefore injected water into several specially separated areas of the borehole. "In general, the output can be increased by injecting water into the rock. This results in the displacement of existing crack areas, which thus remain permanently open, thus allowing better inflow to the borehole. We proceed only step by step, injecting only a small amount of water, observing how the system reacts to this, and making predictions about the further development. This allows us to adapt our approach again and again," says Hannes Hofmann.
"We don't just react to measurements, we have also made real-time predictions for the first time about how magnitudes might develop."
Efficient use of drilling sites is becoming increasingly important: almost 130,000 of Iceland's 360,000 inhabitants live in Reykjavik on the west coast. Their number is rising continuously, and more and more tourists are coming to visit. As a result, the country's energy requirements are constantly rising. Heating and hot water are almost exclusively provided by geothermal energy. In Reykjavik, a large part of the sidewalks and streets are heated in this way - so winter road maintenance is not needed here. Although Iceland's electricity needs are covered to around 75 percent by hydropower, the rest is covered by geothermal energy. Recently, however, bottlenecks have occurred here, so the Icelandic project partners, including the city's energy supplier, want to increase the productivity of the existing boreholes. And because of the dense population, attention must also be paid to seismicity, i.e. earthquake phenomena. This is where Hannes Hofmann and the other partners come in. At each stage of the work, they check how the work affects the subsurface and measure whether vibrations of the ground can be detected. If everything is inconspicuous, pumping can continue. A special feature of their method: "We don't just react to measurements, but have also made real-time predictions for the first time about how the seismic risk could develop. This worked very reliably in this practical test," says Hannes Hofmann.
And everything else went according to plan: "The geological situation at the site is advantageous. During our tests, the magnitude was below zero - so weak that this seismicity can just about be recorded with measuring instruments". So this is also a very good result for the well operators, who want to improve new wells using this technique. Most Icelanders support the use of geothermal energy. However, because a few years ago it was possible to measure lighter quakes near an Icelandic high-temperature geothermal field, they are nevertheless taking a more critical look at whether the systems could increase the risk of earthquakes.
Not only geological, but also meteorological characteristics had an impact on the researchers' deployment planning: Hannes Hofmann is particularly remembered for the autumn wind. "Geldinganes is notorious for its wind conditions. It blows so strongly here that planned houses are not being built for the time being and even a port project that has been started is not being implemented," he says. The wind has also repeatedly caused the scientists problems, for example when they were setting up the tall drilling rig. "Sometimes nothing worked for half a day. The heavy, vibrating parts would simply have posed a danger to the workers. Nevertheless, it went on. "The Icelandic project partners are incredibly experienced. They were also extremely helpful and even at two o'clock in the morning they were able to obtain parts that were missing at short notice. Real movers and shakers." The fact that the local partner is really interested is the most important thing in such a cooperation. "It's great to see how all the expertise flows together. Despite the tension, I really enjoyed the planning work," says Hannes Hofmann. Most of the time he was at his workplace, he remembers his assignment in Iceland - "but you always get a feeling for the host country. For me, Iceland was a dream destination: it was so pleasantly down to earth and very friendly.
"Also otherwise we were always on call. The phone may ring late again, because you have to decide how to continue the injection."
The seven-member team lived in several small hotels. It was nice and comfortable, of course, but "sometimes a little bizarre" - namely when tourists were happily planning their vacation day at the breakfast table next door, while Hannes Hofmann and his colleagues were discussing their work at the borehole in a concentrated manner. The non-Icelanders from the team nevertheless found their way into island life very well: Whenever there was time, they planned visits to the thermal springs. And when they ate together in the evening, fish and seafood were top priorities for Hannes Hofmann. He only avoided whales, he said, as well as "spoiled fish" - the fermented "Hákarl", also translated as "bum shark", is an Icelandic specialty. At the borehole itself, during the long working days, instead of traditional dishes, there was international, fast food anyway: burgers or fries.
In general, efficiency was important here. The work ran 24 hours a day, divided into two shifts. "And we were always on call. The phone can ring late again, because we have to decide how to continue the injection. Do you continue pumping because the data is better than expected, or would you rather stop as planned? "Oh, it was all played out umpteen times - then such decisions can also be made in the middle of the night," says Hannes Hofmann. And he was able to add a little magic to the night shifts: "We were even able to observe northern lights above the drilling rig.
The Project DESTRESS
DESTRESS ("Demonstration of soft stimulation treatments of geothermal reservoirs") examines how geothermal energy systems can be used more efficiently. It is testing new processes that will make this possible without environmental risks. The EU project, which is coordinated by Helmholtz, builds on earlier projects and now enables tests worldwide: 18 partner institutions from Germany, France, Great Britain, Lithuania, the Netherlands, Switzerland and South Korea are directly involved. With the exception of Great Britain, experiments have also taken place everywhere - in Iceland and Hungary. The project has a funding period of almost five years and will run until the end of November 2020.

To the project