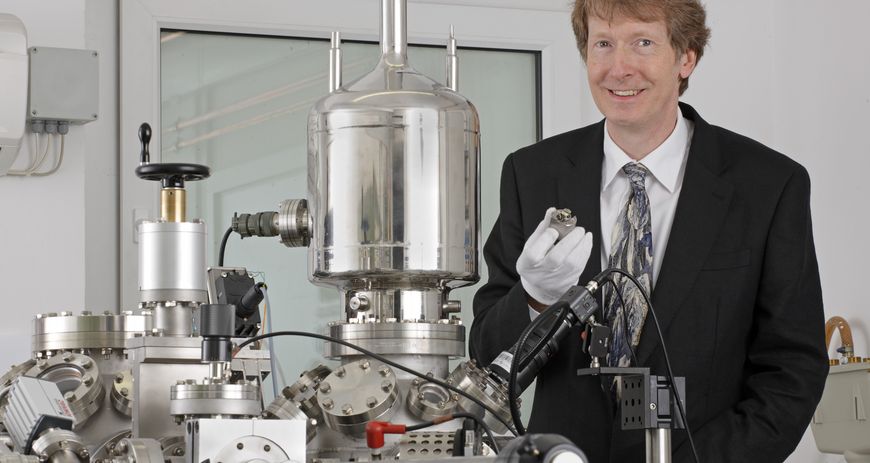 Leibniz-Prize
"Now I can trigger things"
The Jülich researcher Rainer Waser has been awarded the 2014 Leibniz Prize. Nanoelectronic components, electrochemical energy conversion and innovative sensors – these are only a few of the topics Waser and his colleagues investigate. The 58-year-old natural scientist and engineer is Director of the Peter Grünberg Institute at the Forschungszentrum Jülich research centre, a member of the Helmholtz Association, and also holds a chair at the Faculty of Electrical Engineering and Information Technology at the RWTH Aachen University
[Translate to Englisch:] "Wasers Arbeiten auf dem Gebiet der Informationstechnologie waren grundlegend", gratuliert Helmholtz-Präsident Jürgen Mlynek. Waser selbst zeigte sich unmittelbar nach Bekanntwerden der Auszeichnung ehrlich überrascht. "Ich habe gar nicht mehr damit gerechnet, weil ich vor einem Jahr schon einmal für den Leibniz-Preis nominiert war und damals nichts daraus geworden ist", sagte er und fügte hinzu: "Die Auszeichnung ist ein Erfolg der interdisziplinären Arbeit, für die meine Mitarbeiter und ich stehen."
Der Gottfried Wilhelm Leibniz Preis wird seit 1986 jährlich von der Deutschen Forschungsgemeinschaft (DFG) verliehen und gilt als renommiertester Wissenschaftspreis in Deutschland überhaupt. Jeder Preis ist mit einer Summe von 2,5 Millionen Euro dotiert, die die Preisträger nach ihren eigenen Vorstellungen und ohne bürokratischen Aufwand für ihre Forschungsarbeit einsetzen dürfen.
Auf die Frage, was er mit dem Preisgeld anfangen wolle, antwortete Waser, natürlich habe er davon geträumt und sich ausgemalt, was er damit alles machen könne. "Und jetzt kann ich es! Ich kann Projekte, die mir wichtig sind, ausweiten und gemeinsam mit meinen Mitarbeitern und Kollegen neue Dinge anstoßen und in Workshops mit Kollegen investieren. Insgesamt also eine vielfältige Mischung, mit der ich die Forschung am Forschungszentrum Jülich und an der RWTH Aachen weiter vorantreiben kann."
Die engere Zusammenarbeit von universitärer und außeruniversitärer Forschung liegt dem Preisträger besonders am Herzen: Waser hat mit dem Electronic Materials Research Lab (EMRL) eine Einrichtung gegründet, die seine Institute in Jülich und Aachen zusammenführt. Beide Institute sind zudem Teil der Jülich Aachen Research Alliance (JARA-FIT).
Insgesamt hat die DFG elf Forscherinnen und Forscher mit dem Leibniz-Preis ausgezeichnet. "Sie alle haben in ihren jeweiligen Forschungsgebieten Außergewöhnliches für die Wissenschaft geleistet", sagte Helmholtz-Präsident Mlynek in seiner ersten Reaktion.
Zu den Preisträgern zählt auch der erst 38 Jahre alte Lars Zender, der die Sektion für translationale gastrointestinale Onkologie am Universitätsklinikum in Tübingen leitet. Bis vergangenes Jahr forschte der Mediziner als Chef einer Helmholtz-Nachwuchsgruppe am Helmholtz-Zentrum für Infektionsforschung in Braunschweig.
Die übrigen Preisträger sind:
Artemis Alexiadou, Linguistik, Universität Stuttgart
Armin von Bogdandy, Ausländisches öffentliches Recht und Völkerrecht, Max-Planck-Institut für ausländisches öffentliches Recht und Völkerrecht, Heidelberg
Andreas Dreizler, Verbrennungsforschung, Technische Universität Darmstadt und Christof Schulz, Verbrennung und Gasdynamik, Universität Duisburg-Essen
Nicole Dubilier, Marine Ökologie, Max-Planck-Institut für Marine Mikrobiologie Bremen und Universität Bremen
Leif Kobbelt, Informatik/Computergrafik, RWTH Aachen
Laurens Molenkamp, Experimentelle Festkörperphysik, Universität Würzburg
Brigitte Röder, Biologische Psychologie/Neuropsychologie, Universität Hamburg
Irmgard Sinning, Strukturbiologie, Universität Heidelberg