Portrait
With AI to the "super expert doctor"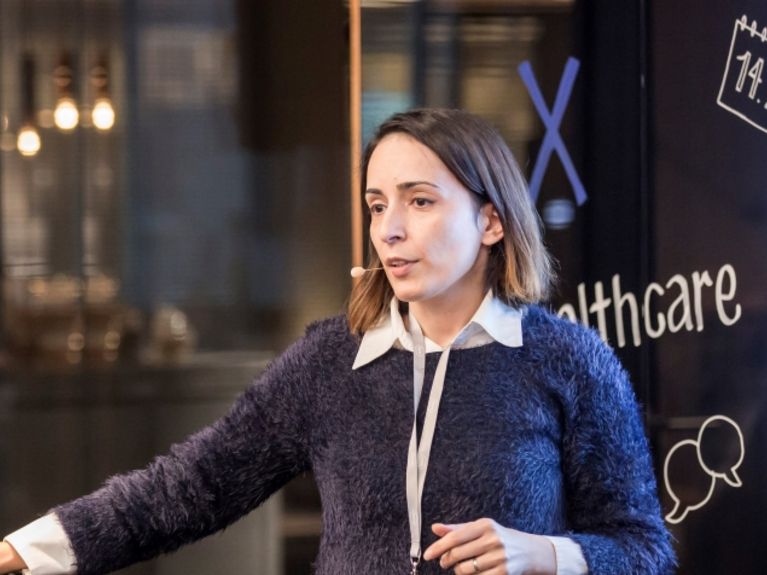 Engineer and computer scientist Narges Ahmidi has had to overcome a few hurdles since she began studying science in her native Iran. Today, she is working in Munich to optimize medical decisions with artificial intelligence (AI).
The first challenge during her studies was to get a computer. Narges Ahmidi shakes her head when she thinks back to that time: "In Tehran at that time, it wasn't easy for a woman to travel alone in the city or to have the same access to education as my male acquaintances," she says. And then she also studied "Computer Engineering" and "Artificial Intelligence"; two subjects, in other words, in which she stood out even more as a woman. "My family has always been very supportive," Narges Ahmidi says in retrospect, adding, "What everyone else thought was best for me never interested me."
This fighting spirit is something that runs like a thread through Narges Ahmidi's life. Today, the 42-year-old lives with her family some 4,000 kilometers west of Tehran in a house just outside Munich. At the Institute for Computational Biology (ICB) of Helmholtz Zentrum München - German Research Center for Environmental Health, she leads a research team that aims to apply the benefits of machine learning to patient treatment - a topic she specialized in during a long stay in the United States. She is one of the pioneers in her field; while still in Iran, she has been awarded top science prizes such as the "Iranian Presidential Award of Young Scientists."
Throughout her career, she has defied emerging adversities faced by women in science: "Sometimes there are major obstacles such as sexual harassment in the office or at congresses - such as the well-known example of the world's largest artificial intelligence conference, NIPS, where there were lewd jokes because of the conference name," says Narges Ahmidi. The conference was then renamed NeurIPS after public pressure. Mostly, though, she says, women scientists face microaggressions, harassment or discrimination that are harder to document and prove than, say, coercion. "Sometimes, as women, we are not even aware of the discrimination and assume it is normal to be treated this way," Narges Ahmidi states.
Additionally, there is a social stigma associated with young working mothers: She says she is sometimes looked at askance when she or her husband are late picking up their two daughters from daycare. "There are people who think that I should live my life differently as a mother," she says. And dryly, she adds, "But I know they're wrong. Equal opportunities for women - and for our daughters - won't happen on their own unless we take on important roles in society."
Improving medical treatment with artificial intelligence
Narges Ahmidi is used to stepping on the gas. She wants to achieve something with her research, and she doesn't hide that ambition. "I'm very career-oriented," she says of herself, and when she talks about her work, you can hear the tremendous sense of optimism that exists in the field of digital healthcare. "An incredible amount has happened in the past five years," she says.
With her team, she works with patient data to improve care, "Imagine young doctors. They learn their craft best by looking over the shoulders of experienced colleagues." She wants to transfer this intuitive knowledge from highly specialized professionals into a database fed with data from hospitals around the world. The computer will thus become what she calls in English the "super expert doctor." That becomes especially valuable, she says, when standard procedures don't work in treatment. "In heart surgery, for example, patients are often given a drug that prevents blood clots from forming," Narges Ahmidi says. For most patients, it works exactly as planned - "but then there are always a few people whose bodies react very differently to it, and in some, blood clots even form as a result of the drug." With artificial intelligence, her approach is, it could one day be possible to filter out who is most likely to respond incorrectly to the drugs based on information about the patient and his or her pre-existing conditions alone - and in time, even before surgery. Such examples, she adds, exist in all medical fields.
IT expert in medical research
"I'm proud of the fact that our work is very close to clinical applications," says Narges Ahmidi. That's exactly how she went from being an IT expert to working in the medical field at the beginning of her career: She made the long journey from Tehran to Johns Hopkins University in the U.S. city of Baltimore - a university that is particularly famous for its medical research and where she still heads a research group today. "I had a professor there who inspired me a lot," Ahmidi recalls, so she specialized in working with health data, as did her mentor. And it also runs in her family, she says with a grin: There are engineers in her family, but her older brother is a doctor. She's now the one connecting the two strands.
Courage instead of comfort
When she talks about it, she prefers to do so in English. "My German is still getting better," she says then. And then she switches to German when she talks about her life in Munich. Three keywords immediately come to mind, she says, beaming: "Cycling, museums, beer gardens." This Munich quality of life and education was a deciding factor for her to move to Bavaria three years ago. "My German husband also wanted to show our family Germany after we lived together in the U.S. for ten years," she says.
She had no idea of the challenges ahead when the decision was made to make the move. She did it the way it has worked time and again in her career: she rolled up her sleeves and just got going. She hasn't been afraid of opposition or setbacks for a long time. This has also been reflected in her pugnacious motto, which she places above her work: "Be brave in life! If we choose courage over comfort, we can make a difference."
Career Talk "Women in Data Science
Narges Ahmidi is one of the female scientists who will speak on April 14 at the Career Talk "How to become a Data Scientist? Career paths of women in Data Science". Helmholtz is organizing the digital event as a pre-event in the run-up to the Gender Summit.
As curious as we are? Discover more.