Neumayer-Station
White Christmas Guaranteed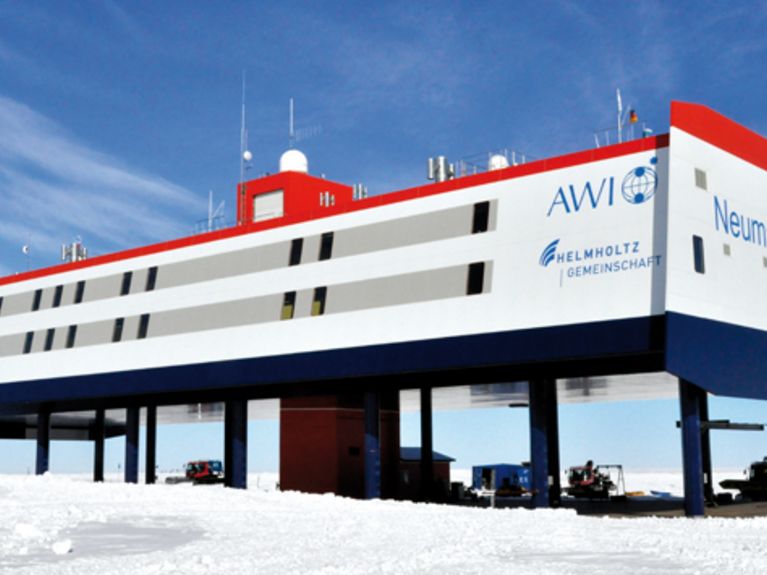 For Barbara Fiedel, this will be the second Christmas Eve spent at the Antarctic research station Neumayer III. An interview about solitude in perpetual ice, medical emergencies – and the obligatory Christmas tree
Ms Fiedel, you soon will have completed your first year at the research station. What was there for you to do so far?
Well, I sort of combine the jobs of apothecary, radiologist, ophthalmologist and dentist in one person. I am a surgeon by training, but here I obviously have to take care of all illnesses and injuries.
Hopefully only minor ailments!
Luckily, we have not had a serious accident as yet. For if something should really happen, it would take about twelve hours under the most optimistic circumstances to get to Cape Town - however, this is just the flight duration. The weather conditions have to be right, the aeroplane needs to be organised and made ready for take-off and so forth. It would probably take three days until we can get a patient to a hospital.
Is your seclusion at least compensated for by an idyllic environment?
Oh yes, the environment is sensational indeed. In the living room, we have a large expanse of windows looking south, through which we can view the full beauty of the Antarctic. When the sun rises and sets, that is mind-blowing.
Your living room?
Yes. We have a living room, which we call lounge. It has a bar, a pool table and a large sofa. Actually, it is rather cosy here in our station.
At any rate, you have something many people in Germany dream of: white Christmas.
That is true. And it is not lonely here either. Christmas is high life: After all, for us this coincides with summer time, which lasts from November to February. This means we have plenty of people here, between 30 and 50. There is a steady coming and going. That is different in winter, when we are only nine persons and completely reliant upon ourselves: we have two geophysicists, one meteorologist, one air chemist, one electrician, one engineer, one cook, one radio operator and me in my capacity as physician and head of the station.
So a rather bustling holiday season, is it?
Unfortunately, we have hardly any time: during the summer months we work even on holidays and Sundays. We have to unload the ships, carry out repairs and numerous small jobs that we can do only in summer. At Christmas, we allow ourselves one free day, though. We set up a little tree and sit together for a couple of hours.
With non-perishable food from the tin and box wine?
(laughs) Last year, our chefs even created a four-course menu. That was fabulous! During the warm months we always have fresh provisions. A supply plane comes eight to ten times over the course of summer and brings fruit, vegetables and actually anything our hearts desire. This changes again in winter, when we have no replenishment of fresh food and we have to manage with the stocks we have. However, we have plenty of frozen vegetables and suchlike.
Do you miss the Christmas season?
Christmas itself I actually do not need, but I do miss the time leading up to Christmas: the candles being set up everywhere, the Christmas markets with mulled wine and biscuits ... Yet on the other hand: it is so unique being here in the Antarctic - this compensates for a lot.
Barbara Fiedel (35) has been serving as physician and head of station at the Neumayer III Station since December 2012. This Antarctic station is operated by the Alfred Wegener Institute, Helmholtz Centre for Polar and Marine Research. In winter, the temperature on site can fall to as far as minus 50 degrees Celsius. Christmas happens to be during the summer period - when it is significantly warmer at approximately zero degrees Celsius.
As curious as we are? Discover more.