Space Exploration
Reinforcement for Europe's astronauts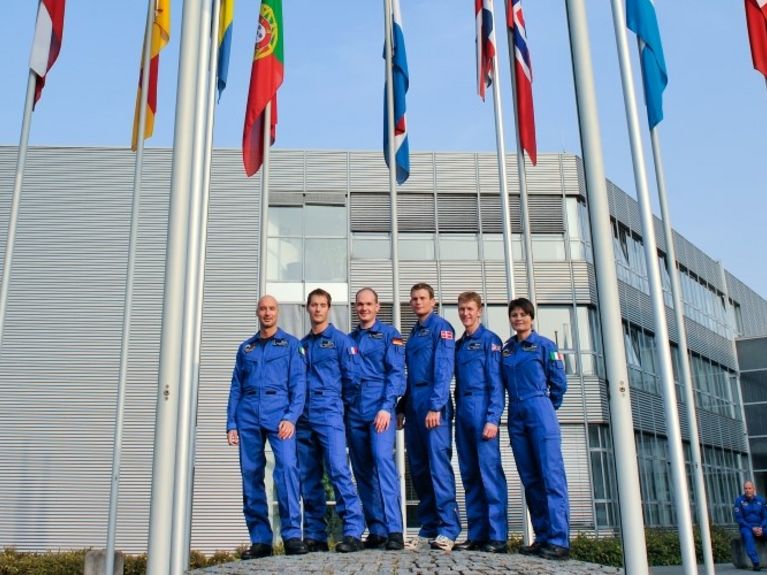 For the first time in 13 years, the European Space Agency is looking for new female and male astronauts. The focus is on diversity, because ESA wants to make work in orbit more attractive not only for women, but also open it up to people with disabilities.
A job where the world is your oyster and you can learn from experienced space researchers - that's the promise of the job that the European Space Agency (ESA) is currently advertising. From March 31 to May 28, ESA is accepting applications for the new training program. "We are looking for four to six astronauts to join the European corps," says Jules Grandsire. He spent ten years managing communications for the astronaut class of 2009 and for the European Astronaut Center in Cologne, Germany. Now he is responsible for communications around the astronaut selection process at ESA headquarters in Paris.
Spaceflight is not a question of gender
One focus this time is on attracting more women to careers in space. "Our selection process has never looked at gender, passport or age," Jules Grandsire explains the background. "But that's not enough. The applicant pool has always been very homogeneous." For example, the percentage of female applicants in the last call for applications in 2008 was only a little over 16 percent. "We want to increase that this time so that at the end of the application process we really have a chance of real gender diversity in our astronaut class."
The fact is that the professions from which ESA recruits its astronauts - specialists in the natural sciences, engineering, medicine and test pilots, for example - have so far had a low proportion of women in Europe. But Jules Grandsire is sure that there is enough talent nevertheless. "Many people don't trust themselves to apply, even though they have what it takes to be good astronauts," he explains. "Research has shown that this phenomenon is more common among women. So if we want to have more female candidates, we need to target women more. We need to completely rethink our communications; start selecting women as protagonists more often, change our word choices, and even the music in our videos." Achieving diversity through a quota was out of the question. "For ESA, gender does not matter. That's why, during the talks on astronaut selection, the member states also once again came out against a quota. We want to remain neutral. Because neutral also means fair."
The perfect candidates: stress-resistant and eager to learn
Professional qualifications are a fundamental prerequisite for being shortlisted. A master's degree in science, an engineering degree, a doctorate in medicine or training as a test pilot open the doors here. An aviation medical certificate is also required, which must be enclosed with the application.
But a good degree does not make a good spacewalker. "Astronauts must be able to work efficiently in a multicultural environment, in dangerous, stressful, unusual and uncomfortable situations," outlines Jules Grandsire. "The International Space Station is not a five-star hotel. And the various capsules you fly there in are certainly not," he adds with a grin. "That's why we're looking for people who can stay calm under stress; who have a high tolerance for other people, other cultures and lack of comfort; who are very resilient and who enjoy learning lots of new things." The latter will be the main task for the new astronauts after selection anyway. After all, before they will spend six months in space, two and a half years of training are on the agenda - not to mention one to one and a half years of basic training.
A year of rigorous selection for a place above the clouds
But until that time comes, applicants face a selection process lasting a good year, during which their professional qualifications are compared with the requirements in the invitation to tender. Those who make it through this round are invited to Hamburg. A large site of the German Aerospace Center (DLR) is located there. The Institute of Aerospace Medicine there has its own department for aerospace psychology. It's ideal for the psychological tests on the computer that are now on the program and that further shrink the field of applicants. "For the 2009 astronaut class, we had over 8,000 applicants," Jules Grandsire tells us. "Of those, about 900 were invited to Hamburg. Of them, just under 200 qualified for the next test stage."
This time, too, it will take place at ESA's Astronaut Center in Cologne. Group work will then be on the agenda there. Because ESA wants to know from its applicants: How do they solve problems in a group? How do they lead? How do they follow? Those who prove themselves here move on to the next round. "The best are sent to the medical examinations. There, every organ is looked at with a magnifying glass."
In the last selection, 72 applicants made it through to the doctors. Those who are found to be suitable then have the chance of a place on the shortlist. Ten applicants made it onto the shortlist last time. The new ESA Director General Josef Aschbacher will decide together with the ESA delegations who will ultimately be among the four to six new astronauts. "And if in the end it turns out that ten or twenty applicants are good enough to become astronauts, we will propose the rest to join the newly formed reserve."
Basic education and extensive training
While this group will remain in their old jobs, the new professional astronauts will go to the European Astronaut Center in Cologne for basic training. "Astronauts are specialists in their respective fields," Jules Grandsire summarizes. "In 18 months, we bring them all to the same level in engineering, science, medicine and, of course, spaceflight." After that, the program includes training with partners in the U.S., Russia, Canada or Japan and, of course, the special training for the first mission in space. And finally, it is finally open to the astronauts: the workplace where the world lies at their feet.
The Parastronaut Project
In the Parastronaut Feasibility Project, ESA is explicitly looking for potential astronauts with disabilities for the first time in the history of spaceflight. The technical, physical and psychological selection criteria are the same as in the regular call for applications for the astronaut corps. With one exception, a disability is specifically encouraged.
Those who are selected are allowed to join the reserve and work together with ESA and its partners to ensure that space will not be closed to anyone in the future. "Personally, I am always heavily impressed by the athletes' performances at the Paralympic Games," Jules Grandsire tells us. "For me, diversity is something we need to demonstrate in our personal lives and in our professional lives. In my opinion, space is predestined for this."
As curious as we are? Discover more.