Portrait
Understanding cancer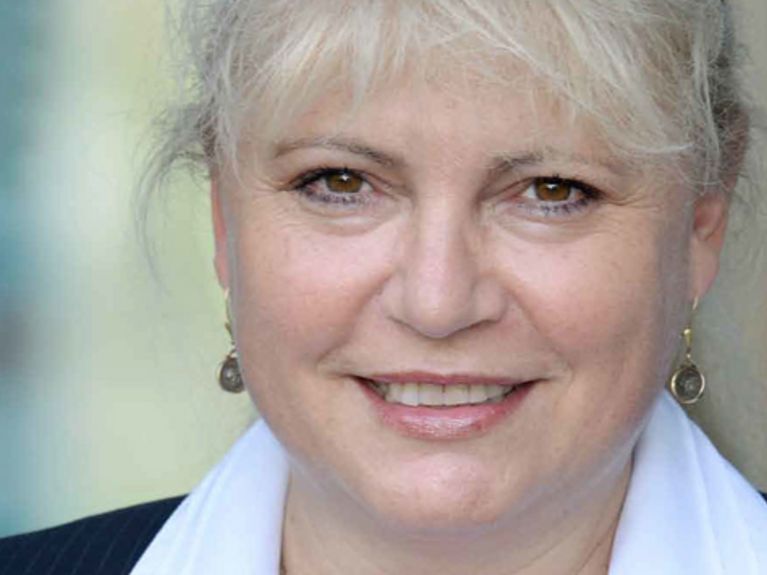 Berlin-based scientist Ulrike Stein has discovered a gene that is responsible for the growth of tumours. Will this make cancer more predictable in the future?
My gaze out the window on the fourth floor focuses on the wilting leaves of the trees in the distance. Once they have fallen in the winter, we're supposed to be able to see the famous television tower in the city-centre from this place – the North Berlin city district of Buch. But this sweeping view is in stark contrast to the office from which it can be seen. Above two desks hidden under books and papers, there are two shelves mounted on the wall that are crammed full with folders. The cancer research scientist, Ulrike Stein, is sitting at one of these desks.
It was five years ago that she and her colleagues Peter Schlag and Walter Birchmeier made a discovery that caused a lot of excitement. They identified a gene in colorectal cancer patients that is responsible both for growth of cancer cells, as well as formation of metastases. It was soon shown that with MACC1, the identifier for the gene, an additional piece was found in the mosaic of cancer research, and that therapy opportunities that could emerge from this discovery appear to be tremendous.
For Ulrike Stein, in her early fifties, a childhood dream was realised. From her earliest childhood, she wanted by become a cancer research scientist – indeed, she had even written an essay on the topic in school. There are personal reasons for this she said, without offering any further details. She would rather report on her research. Ulrike Stein began her career back in the days of the German Democratic Republic; she studied biochemistry in Halle, subsequently completed her PhD under the auspices of, at that time, the Central Institute for Cancer Research in Buch – and then the reunification between East and West entered into the picture. This new freedom allowed Stein to go, along with her husband and son, to the US. She worked at the National Cancer Institute in Frederick, Maryland. It must have provided a tremendous influence; to the present day she still travels back every year for a few weeks to maintain contact with her colleagues and to tackle projects jointly, she explains quite enthusiastically.
Her return to Germany in the mid-90's brought Ulrike Stein back to Berlin-Buch. Here at the
Max Delbrück Centre (MDC)
, basic research was conducted then, from which findings were applied to either treat or help avoid diseases. Such application-based research was what she had always wanted to do, she explains, "That was possible here. That's why I came back, even though I had offers in the US." Later on she qualified as a professor and received a professorship. This is where she remained, gave birth to another daughter and today lives with her family quite close to her office.
Ulrike Stein no longer works in the laboratory. As leader of the workgroup "Translational oncology for solid tumours" at the Experimental and Clinical Research Center of the MDC and the University Clinic Charité, she has too many other tasks. She generates networking with other workgroups, attends conferences, seeks out partners in industry and monitors worldwide research in her sector. Email correspondence is neatly sorted on her desk. She finds, quickly and easily, what she is looking for. She has to be efficient, in order to complete all of her assignments. "Most importantly, I have to prescribe where our research is going", she explains.
She is particularly proud of the achievements of her approximately 30 employees. Everyone has the same common goal – "We want to do our best to keep patients from dying of cancer", Ulrike Stein puts it succinctly. With the discovery of the gene MACC1, they are in a position to make a significant contribution, since this would offer a prediction as to how strong the tendency is for a tumour to metastasise. This is the real issue that makes tumours so dangerous. "We can now develop drugs that work against this metastasis predisposition." So far, 30,000 substances have been tested for such an inhibitive effect. In the mean time, it is known that this gene plays a significant role in many solid tumours such as lung cancer, stomach cancer, breast cancer, cancer of the liver and many more. MACC1 can be substantiated even in the blood of patients, thus serving as an important biomarker. Al coordinator of the Cancer Department at the MDC, Claus Scheidereit is quite familiar with her research. "By identifying the gene responsible, Ulrike Stein has shown that the molecular basic research is very close to practical application."
"In the beginning we experienced a few sleepless nights", says Ulrike Stein, when she reminisces about the initial publications of her research. "After all, you never know whether or not other scientists are going to confirm your own results", she adds. In the mean time, hundreds of follow-up publications by colleagues have appeared that support her findings. Ulrike Stein collects the most important papers on the subject. They continue to fill up further folders in her office, and offer bright prospects for both research scientists and patients.
As curious as we are? Discover more.