New Series
"The worst was all that paperwork"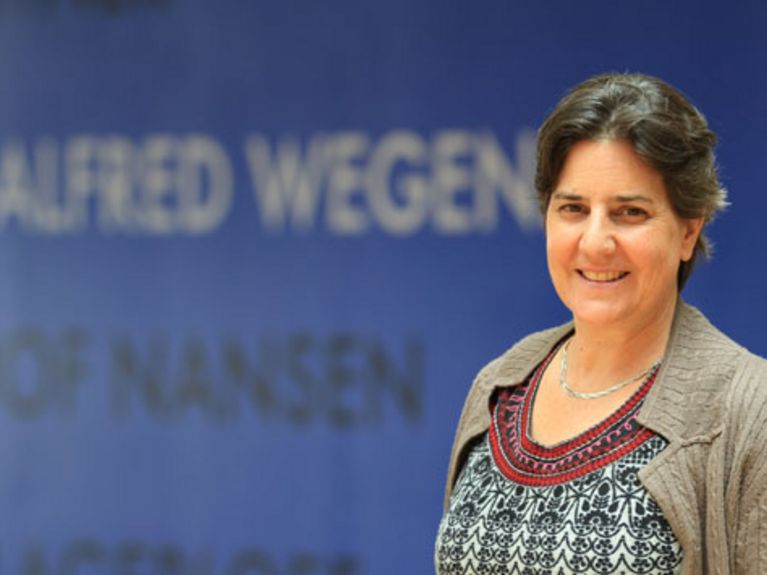 More than 8,500 foreign research scientists are working at Helmholtz Centres all across Germany. What are their personal stories? What are their impressions of Germany? We would like to introduce a few of them in this new series. Anya Waite from Australia will begin – she's an oceanographer at the Alfred Wegener Institute, Helmholtz Centre for Polar and Marine Research
As the only biological oceanographer at the University of Western Australia in Perth, Anya Waite sometimes felt like being at the wrong end of the world: Most of her colleagues were in Europe or America, and proved hard to reach because of the time difference. After moving to Bremen, she is excited about the Alfred-Wegener-Institut, where her colleagues sit just down the hall.
Waite investigates plankton, the microcosm of tiny plant and animal lifeforms inhabiting the world's oceans. It constitutes one of the bases of the food chain for all marine life. But Anya Waite isn't interested only in their fascinating biology: "Physically speaking, these lifeforms are particles dispersing, mixing and interacting. I am interested in their properties as part of a moving fluid." As the new head of the 40 person strong Polar Biological Oceanography section of the Alfred-Wegener-Institut in Bremerhaven in northern Germany, she's in the perfect position to pursue her curiosity. German oceanography is world-renowned in her view. But after 17 years at the University of Western Australia, it still wasn't entirely her own idea to move to Europe: "I might not have applied for the AWI position if they had not approached me and asked me to apply for the Professorship. Once I entered the competition, the whole thing snowballed."
She is still finding her way around her new role as head of the section, Anya Waite says. But she is propelled by her enthusiasm for research: "I have a lot to learn about people, about communication. But I am also looking forward to bringing my research to the poles-the Arctic is likely to be one of the worst-hit areas of the world's oceans by climate change. The Southern Ocean is the big controller of the global climate. Both areas are fascinating and offer remarkable opportunities for research that can shift our understanding of how the world works."
But in Germany, famously, there's paperwork to do before any revolution. Anya Waite recalls quite some pains: "We had to move about a square meter of paper-residency, medical and dental insurance, tax numbers, work contracts, rental agreements and so on. It was especially hard at first to get through long forms in formal German when our German was still poor!" Today, she and her family are learning German as quickly as possible. She also finds help from her colleagues at work, which usually takes place about half in German and half in English.
All in all, Anya Waite feels like she's getting very good support. Her landlady has been a great help in enrolling the kids in school, and someone from AWI was assigned to help her get the family through most of the formal German paperwork. Also, Anya Waite is excited to be in the middle of Europe with many interesting places close by. That's no wonder: In Australia, visiting another country means leaving the continent.
Her family does miss the Australian beaches from time to time, but they are also delighted by some things about Germany: How friendly people are in their new home town of Bremen, the flourishing Nature and the environmental protection ("Germany is green and Green," she says) and how social support is working: "There is real social democracy here, where poorer people are taken care of better than they are in Australia."
International Activites at the AWI
The International Office suppports guests, students and employees with information about visa, housing, language courses and more.
The Work-Life Balance Office gives information about child care, schools and answers questions about balacning work and family. The AWI also has installed a creche for 0-3 year old childre.
The PhD representatives "DokTeam" speaks up, fights for the rights of all PhDs and organises group activities.
As curious as we are? Discover more.