Portrait
"Leave of absence"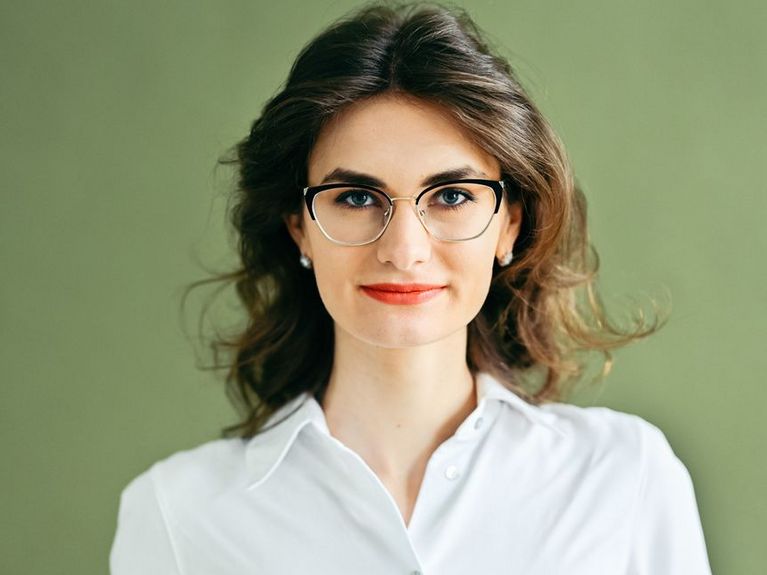 Behind these three words in the CV of brain researcher Nataliia Fedorchenko lie war and flight, and the hope that she will be able to use her knowledge, which she is now contributing to the Human Brain Project at the Forschungszentrum Jülich, to help rebuild Ukraine.
The call reached Nataliia Fedorchenko on the run, aboard a train somewhere between Kyiv and the Polish border. It was an American number on her display; Babak Kateb was on the other end of the line. The founder and president of the Society for Brain Mapping and Therapeutics is a prominent figure among neuroscientists. "He fled to the U.S. during the Iran-Iraq war, where he later played an important role in founding Barack Obama's Brain Initiative," says Nataliia Fedorchenko. Kateb called her from America to encourage her that she had made the right decision in fleeing, using his own experience as an example: "He told me, 'When you're safe, you can do something for your country, more than if you continued to work under constant threat.'"
This brief phone call says a lot about the young doctor and medical researcher from Ukraine: Despite being just 25 years old, she is extremely well connected and has been a fellow at the American Society for Brain Mapping and Therapeutics for a year and a half. It also shows how difficult it was for her to decide to flee her home country. In the meantime, the Ukrainian has taken up a position at the Forschungszentrum Jülich where she works as a research assistant at the Institute of Neuroscience and Medicine. Her goal is to learn as much as possible during her stay in Germany.
In Kyiv she lived a few minutes from the airport in a three-person shared apartment. When the Russian attacks began in the early hours of the morning on Feb. 24, the walls shook in her apartment, at a moment when many others in the country didn't even know the war had begun. "We spent the nights in the basement from that moment on," she says. While everyone cried, Nataliia Fedorchenko tried to keep her composure, as she had learned to do as a doctor, and comforted as best she could. "At the time, there was a suggestion that the Russians were going to encircle Kyiv," she recalls. That tipped the scales for her to flee.
A chapter began in which Nataliia Fedorchenko always felt one thing: Great willingness to help. It began in Poland just over the border, where a family took her in for a few days. "The oldest daughter wants to be a doctor, and she translated my English for her parents" Fedorchenko recalls. She told the young Polish woman about the medical profession and her own career; about how she had wanted to study medicine ever since a standard checkup when she was seven years old and met a fascinating young doctor. About how they talked about brain function in English class at school and she sensed that she wanted to study exactly that in more depth. About how her grandfather suffered two strokes and she helped take care of him as a teenager, and how, at his bedside, she was driven by the desire to understand exactly what was happening in her grandfather's head. She later worked as an emergency physician in a stroke ward and came home from work every day exhausted, burdened by the fates of her patients. And how it made her realize that she would rather go into medical research.
Shortly after her arrival in Poland, a friend from school days contacted Nataliia Fedorchenko. She had been living in Germany for several years and asked if she would like to stay with her. She traveled on to Germany by train, and even today she is touched by how passers-by repeatedly offered her help on the journey. Here in Germany, she has also resumed her hobby from the past: She paints pictures as a way for her to cope with the war and the terrible news from home.
At the Forschungszentrum Jülich, Nataliia Fedorchenko is now working on the Human Brain Project. Once again, the Society for Brain Mapping and Therapeutics played a role: Babak Kateb established contact with brain researcher Katrin Amunts, who brought Nataliia Fedorchenko to Jülich. At the Human Brain Project, which Katrin Amunts heads as scientific director, Nataliia Fedorchenko now has primary responsibility for coordinating the publication process of a paper that revolves around the future of neuroscience. "Currently, 62 authors from many countries are involved, and I am responsible for close coordination with them" she says.
When she can safely return to Ukraine is uncertain. "I am at the beginning of my career, this time is a very important phase. That's why I'm focusing now on being as productive as possible and continuing my education as best I can." In her resume, among all the notable career moves from the past, she used just three words to name the dramatic story of her escape. Since 2021, she writes there, she has been working on her doctoral dissertation on the effects of coronavirus in stroke patients. Currently, "Leave of Absence."
Three words behind which war and flight are hidden. And the hope that in the future she will be able to use the knowledge she has gained to help rebuild Ukraine.
As curious as we are? Discover more.