Corona Pandemic
Lack of exercise threatens children's health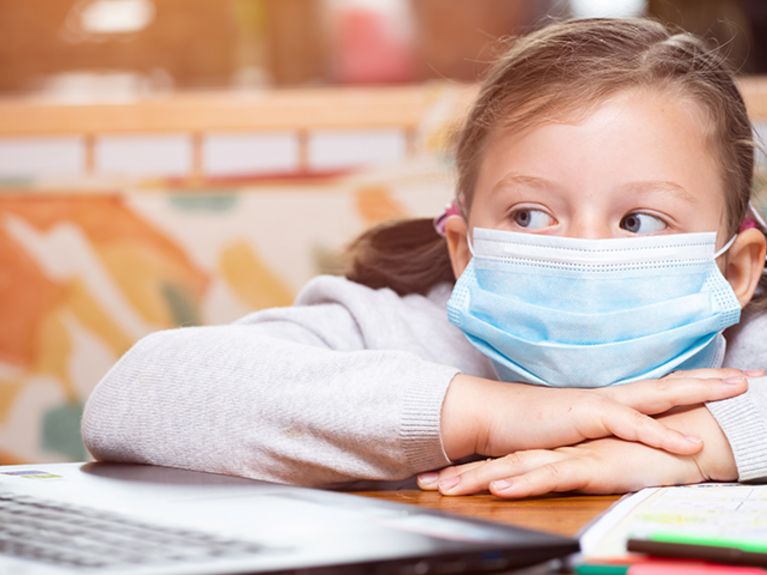 More digital instruction, less movement and encounters - the lockdown has a particular impact on children and young people. Researchers at the Karlsruhe Institute of Technology were able to show that children suffer mentally from the pandemic.
The more children move, the healthier they are - both physically and mentally. In the Corona pandemic, however, they lack many options to exercise; for example, because school or club sports or even free group play with friends cannot take place. How the lockdown affects the health of children and adolescents is being investigated by the Karlsruhe Institute of Technology (KIT) together with the Karlsruhe University of Education in the Motorik-Modul Study (MoMo).
During the pandemic, the researchers placed new emphasis on mental health in the study. "For this purpose, we examined the aspects of mental health, physiological well-being, autonomy and parental relationship, social support, and school environment," explains Kathrin Wunsch from the KIT Institute of Sport and Sport Sciences. It was already known from other studies that long periods of sitting negatively affect health. In short, those who move a lot are physically and psychologically healthier. "The big question is: Are the children mentally healthy because they move, or do they move because they are mentally healthy?" notes Kathrin Wunsch, who has now published the results in the journal Children.
The Motorik-Modul Study
Researchers in the Motorik-Modul have been recording the motor performance and physical activity of children and adolescents in Germany since 2003. In this way, MoMo aims to contribute to the long-term improvement of the health situation of children and adolescents. The module is an element of the large KiGGS study on the health of children and adolescents in Germany conducted by the Robert Koch Institute.
More than an hour has been added to media use in leisure time, according to the surveys. While children and young people spent an average of 36 minutes more on everyday sports activities during the first lockdown in spring 2020, the closure of clubs led to a 28.5-minute reduction in organized sports. However, "outdoor play, cycling, gardening or housework do not have the same intensity as training and competitions," cautions KIT researcher Claudia Niessner. "Additionally, this picture has changed significantly in the second lockdown. We see in the latest surveys that in 2021, everyday activities have also decreased significantly." Even though the surveys from the second lockdown phase still need to be analyzed, this trend is already clearly evident, he said.
Pandemic has a negative impact on children's psyche
The study shows that the pandemic has a negative impact on the mental health of children and adolescents. Sports activities and mental well-being decreased equally. The latter is not simply a result of decreased activity. "Many factors play into mental health: Loneliness, for example, fears about the future or stress from homeschooling," says Kathrin Wunsch. Nevertheless, the researchers suspect that the social and fun effect of joint sporting activity plays a role: "Club sport in particular has a positive effect," confirms Claudia Niessner. "Ball sports, for example, are fun, but children could not do this sport right now. And it's precisely this play sport that is immensely lacking - which exacerbates the psychological problems."
Not surprisingly, children's media consumption increased significantly in Lockdown. In a recent survey on the state of education in the pandemic, researchers at the ifo Institute found that children in the Lockdown spent a total of 4.6 hours a day watching TV, playing computer games or using their cell phones earlier this year. That's significantly more time than they spent on schoolwork or distance learning, according to the statistics. A good third of the parents also reported that their children had gained weight due to the lack of exercise. The KIT researchers confirm: Not only does the lack of exercise affect stamina and coordination, but a quarter of children have gained weight, especially in families that do not participate in sports. Diabetes and other chronic diseases could be the result.
Support for schools and clubs
Alexander Woll, head of KIT's Institute of Sport and Sports Science, sees the elimination of school and club sports in particular as critical and, even in the second year of the pandemic, as still receiving too little attention. "While we have made great progress in digitization, on the other hand, major problems have arisen in connection with it, which have been taken care of too little so far," says the sports scientist. "Sports are often forgotten when it comes to education," he cautions. "Not only has educational time been lost, but the gaps created from a movement perspective need to be compensated for."
Movement, he says, has no lobby in either schools or clubs. This is evident, he said, in the fact that a good half of physical education classes in elementary schools are taught outside of the subject. Woll would like to see a pact to promote physical activity that supports educational institutions such as schools and daycare centers, where children can be reached regardless of their social background, as well as clubs and creates new infrastructures. "By 2020, clubs will have lost 15 percent of their under-6 members," Woll warns. "We have to rebuild and support these structures; clubs must not be left alone with this."
As curious as we are? Discover more.