Portrait
"I never get tired of rethinking things"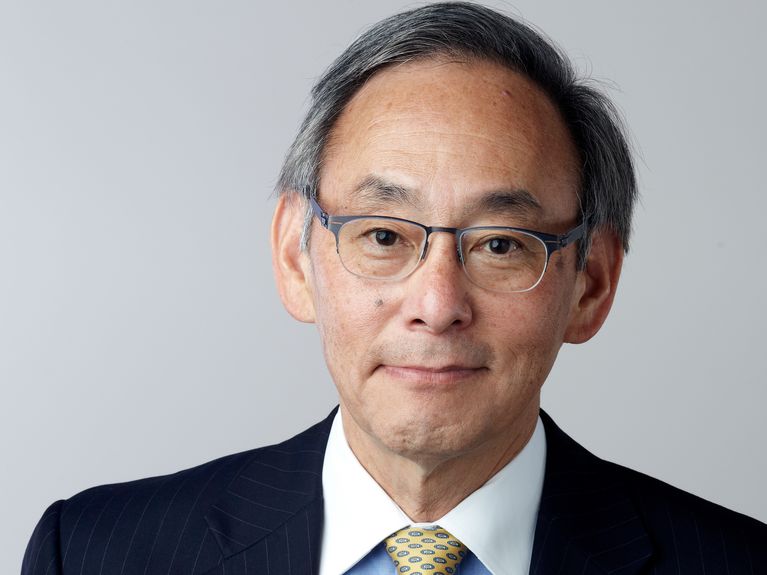 Research and politics – Professor Steven Chu knows both worlds. And the 71-year-old Nobel Prize winner in Physics never runs out of energy, particularly when it comes to climate change.
What would his designs really look like if he had become an architect? If his father had had his way, Steven Chu would today be building houses. He would not have won the Nobel Prize in Physics. Would not have become Secretary of State for Energy under Obama. Would not be one of the most dedicated representatives of the fight against climate change in the scientific community. He was too lazy for physics, his father, a chemistry professor who had immigrated to the US from China, would say. But he was wrong. The strong creative potential that the father recognized in his son was to pay off in the world of science: "I never get tired of rethinking things," says Chu.
"My greatest passion is for physics; it is a field where you can pose very simple questions that can be solved by experimenting," he says, explaining what has attracted him to the subject matter for more than 50 years. "Nothing is wasted. We are not chasing the fashion of one year or one decade, and the principles according to which research is carried out in physics can be used in all other scientific fields." All his life, he has been dancing in a virtuoso manner between different disciplines; he is currently a Professor of Physics at Stanford holding the William R. Kenan chair and a Professor of Molecular and Cellular Physiology at the Medical School.
Nobel Prize for methods to trap atoms
Chu studied and did his doctorate at Berkeley; he worked for Bell Laboratories, at Stanford, and then once again at Berkeley. In 1997, he and two other scientists were jointly awarded the Nobel Prize in Physics for his concept of so-called cooling and trapping atoms with laser light. The idea was to use laser light to cool individual atoms right down and capture them. To do this, the scientists developed a new instrument with a total of six laser beams arranged in pairs pointing in three directions.
In 2008, Barack Obama chose this man of science, who had been Director of the Lawrence Berkeley National Laboratory from 2004 onwards, to be his Secretary of State for Energy. At that time Chu was a political newcomer – a full-blooded scientist with no experience in an administrative setting and the first practising scientist to hold a US Cabinet position. What qualified him in the view of the President-elect was that Chu had at that time initiated a huge energy research program, that he was conducting research into solar technology and biofuels, and that he had a strong opinion on climate change.
"When Obama called and invited me for an interview, I was honored and curious what he had to offer me. But I was determined not to accept a position as a second- or third-tier advisor," he says. However, he could not turn down this offer of a leading role. He placed his entire laboratory in the hands of his doctorate students, leaving behind all his research for four years of bureaucracy. He quickly became one of Obama's closest associates, and was part of the crisis team during the Deepwater Horizon oil rig catastrophe. In April 2010, a blowout occurred in the Gulf of Mexico as a result of human error and technical faults: The platform caught fire, sank, and caused the most serious environmental disaster of its kind in history. In July 2010, the flow of oil was finally stopped with a temporary seal. "There was a technical problem to fix – that was just to my liking." He was also at Obama's side when discussing issues such as fracking, climate change, and the use of renewable energies. But a second term of office was out of the question for him. The call of science was too strong.
Ideas are never exhausted
"In 2013, I had to start over again, which was a very good experience." In Stanford they allowed him to set up a completely new laboratory – without it being clear what course Steven Chu wanted to take. He confirms: "The only thing I knew was that the ideas would come." None of the areas that he currently works on have anything to do with what he was working on during his time in government. "Sometimes you need a sabbatical to free your mind and start new things," he says. The Chu Lab is extremely diversified today; its fields of research range from the development of molecular and imaging techniques and their applications in biology and biomedicine, to the synthesis and characterization of nanoparticles of rare earths.
Over the course of the years, one issue has remained important to Chu: climate change and its links to the subject of energy. He is committed to undertaking research in the area of renewable energy and calls for the further development of nuclear power. "We will only be able to cover 50 percent of our needs with green energy sources in the medium term." And even if the supply may be higher at certain times of the year, there would still be the problem of batteries. His ambitions are therefore increasingly directed towards the research and development of high-performance energy-storage systems.
"It is also the case that power on demand can only be supplied by fossil fuels – or nuclear energy." Both of these are unpopular topics, either due to CO2 emissions or public uneasiness.
"But I maintain that there should be much more uneasiness in the public domain over climate change than there currently is!"
In his opinion, human impact on the climate is the biggest technological challenge, but he also knows that technology cannot supply solutions to all our problems. The public therefore needs to be made aware of the considerable risks involved. "I believe in science and in humanity," he once said in an interview. "I am optimistic because it is not acceptable to give up on solving the climate challenge and on seeking solutions to save the planet for future generations. In my opinion, it is deeply immoral to deny there is a problem."
Steven Chu is 71 years old. He loves to go cycling in the hills behind his house in California. But he sees no reason to think about retiring. Even if his eyesight is getting worse, as he keeps noticing, his ideas remain fresh. His second wife's grandchildren run riot in his house in Stanford. "It's really great, because it means I can go to work," he says with a smile. "To be honest, my mind is always on work. But for me, it's not really work anyway." As Secretary of State for Energy, he worked on studies at night or at the weekend and had to finish papers. "So I gave up all my other hobbies, because my day job already took up 60 to 70 hours per week. That was when I realized that the hobby I love most is science."
As curious as we are? Discover more.