Portrait
Hitchhiking around the world – plants conquer new continents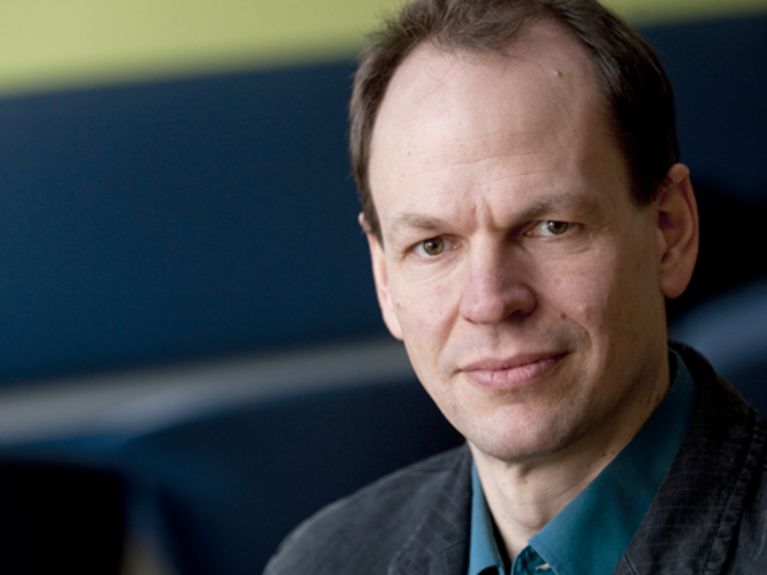 One-fourth of the flora locally consists of plants whose home is actually located in other countries. Even our beloved potatoes and tomatoes are like that. Ingolf Kühn is conducting research to answer the question why these plants feel so much at home here and whether they are creating problems for our ecosystem.
"Just don't go too close, children – you could get burned", the mother had said. But the big temptation was there, to touch the magical plant with its white cones and leaves as large as umbrellas. Within just a few weeks it had grown to three metres – the neighbours in Fröndenberg, Sauerland, Germany, were amazed and the parents were proud of the rarity in their garden. But once they found out how painful and dangerous skin contact could be, the plant promptly disappeared. Ingolf Kühn was at that time a little boy, and it was his first encounter with the giant hogweed (Heracleum mantegazzianum).
In the meantime Kühn is 48 years old, and he is still thinking about that giant hogweed. At the
Helmholtz Centre for Environmental Research – UFZ
in Halle, he is conducting research on how the behemoth from the Caucasus manages to flourish in these parts. The plant, also known as giant cow parsnip, has been present not only in individual gardens for a long time now; it proliferates along the banks of streams and on soggy meadows, on brownfields (wastelands) and in parks, and it displaces domestic species. Whoever touches it can become afflicted with hardly curable skin blisters – allergic reactions are also possible. "The giant hogweed has become so widespread that we can no longer get it out of Germany", says Ingolf Kühn.
This is not the case for all non-resident species, whose proliferation which the ecologist is investigating. "The shorter the time they've been here, and the fewer in-coming plants from the country of origin, the higher the likelihood of getting rid of them", says Kühn. In the mean time, the plants, referred to as "neophytes" in the technical language, represent almost one-fourth of the entire local flora. They usually come from world regions with similar climatic conditions: from southern and south-eastern Europe, as well as Asia with the Japanese knotweed or from North America with the common ragweed and the common black locust. Exactly how far back the migration background can be dated is demonstrated by the potato: it came to Europe around 1550 from South America and during this age of exploratory expeditions, the era of neophytes begins as well, according to modern understanding.
Life without the potato? That's something that hardly anyone would choose to do nowadays. And there are many new species that are considered to be enrichments – the tomato for example, or the lupine. "Only about fifty of the non-domestic species actually cause trouble", says Ingolf Kühn. The problems are sometimes related to the plant's harmful properties, but mostly to uninhibited growth at the expense of long-established species.
But how do neophytes manage the long trip from their home to central Europe? This has nothing to do with coincidence says the research scientist for Halle: "Most non-domestic species are here because we want to have them here." Ingolf Kühn is one of the most-quoted scientists in his field. His study on green migration published in the scientific magazine PNAS met with critical acclaim. This phenomenon is especially pronounced, he says, in prosperous countries with a dense network of transport routes and trade relations throughout the world. In Germany, this infrastructure developed around the end of the 19th century; it enabled dissemination of many new, down to the present day, domiciled plant species.
What began back then is by no means finished: all prognoses claim that we will have to reckon with an increasing quantity of non-domestic species. In order to make a rough estimation of their impact on local nature, Ingolf Kühn's research team is currently developing models of ecosystems. With their assistance, in terms of the overall objective, by simply pushing a button someday perhaps predictions could be made regarding which species would create problems, and which would not. Or how an ecosystem would have to be changed in order to still function in a temperature increase of two or three degrees Celsius.
In order generate such calculations, the scientist sits all day long at his computer. But all of this began in a completely different way: "As a civil service worker in the field of nature conservation, I was always outdoors. That's where I learned to like it." Kühn studied geography and biology in Münster and Bochum and wrote his PhD dissertation on a topic involving biodiversity research. He never thought about career planning, he says, everything just happened on its own. After a few years as scientist at the Ruhr University Bochum, Kühn went with his wife in 2001 – she coordinates the butterfly monitoring at UFZ – and their two sons to Halle. For the last fifteen years, Ingolf Kühn has been the assistant director of the UFZ Biocoenosis Department – that refers to the science of cohabitation of plants and animal species at the same location – and for the last year Professor for Macroecology at the Martin Luther University Halle-Wittenberg.
When the energetic scientist feels claustrophobic in his office and the stress level is too much, he is drawn back to nature: "Then I take a day off and drive out to the Elbe Sandstone Mountains to climb – preferably with a colleague. Basically, he says almost every kind of mountain sport is fascinating to him, and the higher he goes up, the better he feels.
During his mountain hikes, the scientist has no choice – he has to examine the local plant world. The higher he goes up, the fewer non-domestic species he finds. And he has not yet encountered, luckily, a giant hogweed on these tours.
As curious as we are? Discover more.