Portrait
From Odessa to Saarbrücken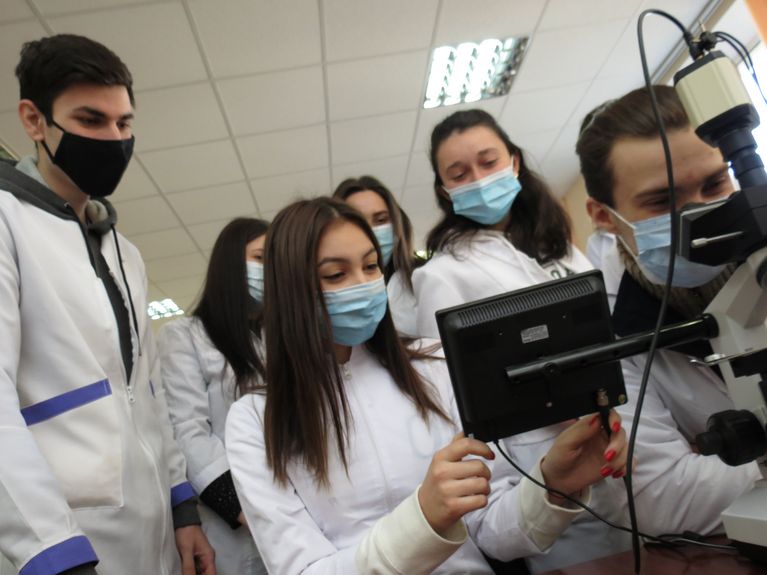 Pharmacist Mariia Nesterkina built a fast-track career in Odessa. She has since had to flee the war, swapping her lab in Ukraine for a life in Saarland where she continues to research new medications.
Mariia Nesterkina first sensed that she had arrived in her new life one morning: She was at the doctor's for a purely routine examination and a conversation quickly developed. "We talked about tissues and about different solvents," says Nesterkina. The pharmacist from Odessa and the doctor from Saarbrücken immediately fell into medical small talk. "I notice that I'm getting better at these topics in German, too!"
The 30-year-old is building her new life at the Helmholtz Institute for Pharmaceutical Research Saarland (HIPS), where she has a postdoctoral position in the field of drug dosage and optimization. It is the first job in her career that she did not plan herself; until the Russian invasion of Ukraine, her professional decisions were made well in advance. She managed a storybook career this way: When she earned her doctorate in pharmaceutical chemistry, she was just 25 years old. After a brief excursion into drug research, she moved to Mechnikov University in Odessa as a postdoc and finally spent three years at the polytechnic university as an associate professor. "There were only seven people in my team, but we were a good bunch," she says in retrospect, and there is no mistaking the wistfulness in her voice.
At first, Mariia Nesterkina didn't think of fleeing when she heard the news of the Russian invasion on February 24: "My mother and my friends are all in Odessa, what would I do anywhere else?" But then the first missiles hit Odessa, and a house in her neighborhood was completely destroyed. Little by little she realized that she would not be able to continue her research in the usual way at the university either: She worked a lot with foreign students, and they stopped coming from one day to the next. "It's a shame," she says: "Our university building in Odessa is from 1868, that's how long research has been going on there. I had everything I needed to do my work." She was working on TRP channels: Cellular ion channels, that is, and when Mariia Nesterkina talks about her work, she brings up the example of chewing gum to illustrate the point: "There's menthol in it, and when you chew on it, you feel a pleasant cooling sensation," she says. That's exactly what the TRP channels are responsible for, as receptors that respond to the menthol. Chili peppers, on the other hand, cause hot flashes in the body; the same effect under the opposite sign. The receptors for these substances are not only found on the tongue, but are distributed throughout the body in the skin. And Mariia Nesterkina wants to use this effect for drugs.
The fact that she fled to Germany from the war is connected to her vacations in the recent years of peacetime: "I was actually always in Germany in the summer," she says: Friends of her parents live near Stuttgart, "and with them I went on tour all over southern Germany. We were in Munich, Nuremberg and quite a few other cities, those were great trips," she says. And these friends invited her to their home when Ukraine was invaded.
With a heavy heart, Mariia Nesterkina boarded the train in Odessa, and one thing was immediately clear to her when she arrived in Germany after a long journey: She wanted to get back to work as soon as possible. And so she looked around for job offers in her field. "I had never heard of HIPS at that time," she says and smiles: "I didn't even know about the existence of a city called Saarbrücken." That was a mistake, she then quickly adds: "When I first came to the labs, I knew right away that this was exactly where I wanted to work. Such a great team, such a friendly atmosphere, so much helpfulness!" The admission process was also very uncomplicated and involved a great deal of personal commitment, especially from Professors Anna Hirsch and Claus-Michael Lehr. And Saarbrücken itself, with its multicultural flair and French influences sometimes reminds her of Odessa, she says: "That's where the various cultural influences have converged over the centuries."
There it is again, the wistfulness in her voice. One thing is already certain for Mariia Nesterkina: She will return to Odessa as soon as the war is over. "And here in Saarbrücken, I want to learn as much as possible until then, so that I can take it all with me to Ukraine!"
As curious as we are? Discover more.