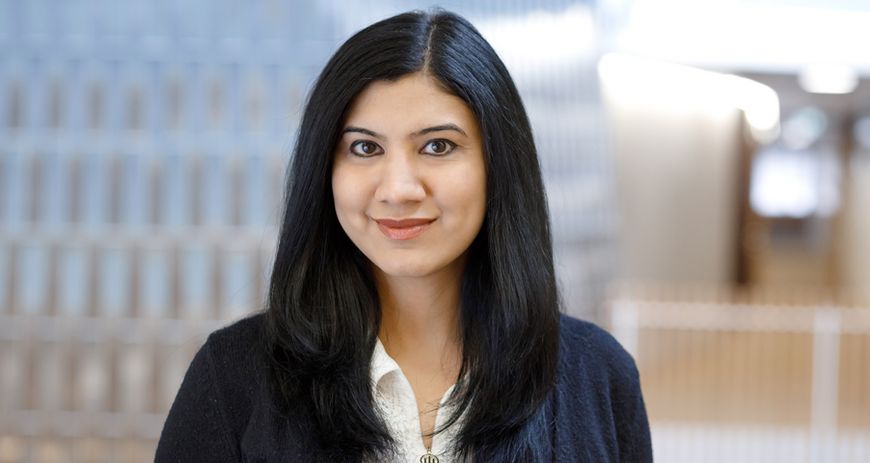 Portrait
Between Tumor Research and Alpine Idylls
Although molecular biologist Priya Chudasama is originally from India, she now feels at home in Germany too. Based in Heidelberg, she is working on a breakthrough in the fight against tumors.
A chance to let her gaze wander and enjoy views stretching into the distance – for Dr. Chudasama, the Alps are the perfect counterpoint to her everyday work in the lab. The Indian-born scientist conducts tumor research in Germany. Her work focuses on what are called sarcomas, a particularly aggressive type of tumor that starts in connective, supporting, or muscle tissue.
Dr. Chudasama's path into medicine was already mapped out for her: "I come from a family of doctors," says the 33-year-old, "and it was probably expected that I would practice as well. But I chose research instead." She studied biotechnology in Rajkot, western India, and virology in Pune, a city near Mumbai. Then, aged just 23, she decided to leave her homeland and write her doctoral thesis in another country. Great Britain, the US, or Germany? "A combination of timing, recommendation, and the right project helped me to decide," says Dr. Chudasama, looking back. And there is no doubt in her mind that Germany was the right choice for her.
She wrote her doctorate on "Viruses of the immune system" at the University of Erlangen. "I studied viruses that can cause cancer and was immediately fascinated by this subject," she explains. "I'm a curious person, always looking for answers." Little research has been done into sarcomas affecting bone and soft tissue. These make up about one percent of all new cases of cancer in adults and exhibit a high degree of genetic and histological diversity. That is why they are difficult to diagnose and treat.
The young researcher aims to change this and, thanks to six years of funding from the Emmy Noether Program, she is now in the ideal position to do so. With the help of the two million euros in funding, she has set up her own junior research group to conduct "Precision Sarcoma Research" at the German Cancer Research Center (DKFZ) and the National Center for Tumor Diseases (NCT) Heidelberg. The NCT is a joint facility run by the DKFZ, Heidelberg University Hospital (UKHD), and Deutsche Krebshilfe (German Cancer Aid). Dr. Chudasama and her team intend to analyze tissue samples from sarcomas and identify their characteristics. Using high throughput sequencing of tumor DNA, they hope to get to the root of the molecular biological mechanisms at play in aggressive tumors. "What drives the development of these tumors? What are the molecular abnormalities, and can we attack them with drugs? These are the big questions." The initial results are very promising, with the scientist and her team gaining some insights into the cancer cells' faulty aging process.
The team is focusing its work on the ends of chromosomes, known as telomeres. In cancer cells, these telomeres become longer, meaning that cells can continue to divide for a long time. The lengthening mechanisms of cancer cells could be potential targets for therapies. It is also hoped that further targets in the tumor microenvironment will be identified that use the body's own immune response – so-called immunotherapies.
Dr. Chudasama's new role as group leader also involves many administrative tasks and various other challenges. "I'm aware of the responsibility I've taken on – even if it's not always easy to live up to every expectation. Determination and motivation, a strong work ethic, and a sense of responsibility are important to me," she says. And despite the pressure, she is certain that she is exactly where she wants to be.
She has never questioned her decision to move to Germany eleven years ago. Over time, the country has become her second home. She speaks German well and has made friends here. Heidelberg, where Dr. Chudasama lives today, is rather different to the Indian city of Jamnagar where she grew up and is only one-tenth the size of it. Summertime is hot and dry in western India, with temperatures climbing to 45°C. Hot summers, like those being seen more and more often in Germany in recent years.
In Germany, the researcher can draw on her experience from her home country: She attended a Catholic school, even though her family is Hindu, celebrated Christmas with her Christian neighbors, and observed the Buddhist holiday of Vesak with other friends. "I was brought up to have an open mind. My parents felt that it was important to teach us to take a highly integrative approach, share meals, always help others, and be honest," she says. This attitude made settling into a new country easier. Dr. Chudasama is also happy to have found good mentors, who opened doors for her to pursue her career: "I'm eternally grateful to them." Colleagues have become friends – supportive, kind, generous, and funny. "They've made this country feel like home to me." And she sees international cooperation as a key feature of her team. It is something that she experiences again and again, whenever new colleagues join her – whether from Russia, Portugal, Turkey, Korea, or the Netherlands. "We're an international team," she says, "and there are no problems, because everyone respects each other, no matter where they grew up. We're united by a common goal: to support each other in doing outstanding scientific work."
Dr. Chudasama has very little time for hobbies at this stage in her life – but there is one activity she won't give up: hiking. She says that walking across green hillsides in the Alps invigorates and inspires her. "In India, we only know the Himalayas, and we wouldn't dream of climbing them. That's why I was astounded by the great beauty of the mountain pastures when I first went hiking in the Alps!"
She travels to India at least once a year, and her close family gets together from time to time by video conference, sometimes even with relatives who are scattered all over the world – Priya's parents and brother in India, her aunts in London, her cousin in the US. According to an Indian saying, "The whole world is one family." It is a maxim that Dr. Chudasama has made her own.