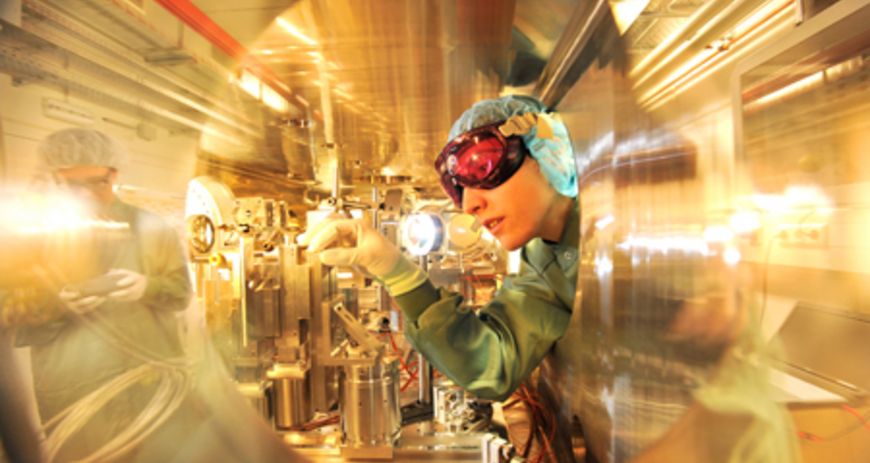 Forschungsinfrastrukturen
A New ELBE in Dresden
On 28 February, Saxony's Minister-President Stanislaw Tillich and Dr Peter Michel, Head of Radiation Source ELBE at the Helmholtz-Zentrum Dresden-Rossendorf (HZDR), launched the new ELBE with a joint push of the button. Yet in contrast to its namesake, the river, ELBE does not move water but electrons: it is a so-called "Electron Linear Accelerator for beams with high Brilliance and low Emittance". The acronym ELBE now denotes also the high performance radiation source centre at the HZDR. After the 55 million Euro upgrade, ELBE now is Saxony's largest research facility.
The heart of ELBE is an accelerator that can accelerate electrons to an energy level of up to 40 mega electron volt or almost the speed of light. In addition to electrons, the ELBE radiation sources can generate also other elementary particles such as protons, positrons and neutrons as well as X-ray and gamma radiation. Another part of ELBE is the high performance laser DRACO: with its 150 terawatt it achieves an intensity comparable to concentrating the entire energy of the sun hitting the earth's surface on the tip of a pencil.
Electron source and high performance laser are valuable tools even when applied individually and are used for investigating the characteristics of functional materials such as semi-conductors. In combination, however, they offer a very special option: when the electron and laser beams meet, the electrons behave like a mirror and change the laser's wave length. This allows for the creation of ultra-short X-ray pulses, which in turn allow for rendering visible the structure of materials or biological processes down to the atomic level.
Like other radiation sources, ELBE emits only short pulses and no permanent radiation. What makes it unique, though, is its ability to repeat these high-energy radiation pulses as often as desired without interruption. Add to this the fact that ELBE is at the disposal not only of the HZDR researchers, but that any scientist can schedule time for measurements – fully in keeping with the Helmholtz mission of developing large-scale facilities and of operating these while making them freely accessible to science.
Further Information:
To the press release of the HZDR (in German)