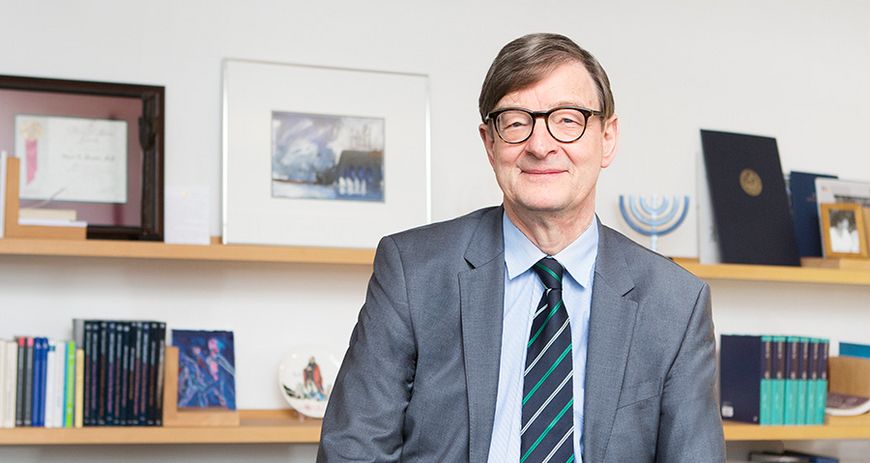 Interview
"Our science system delivers"
Exploratory talks on the formation of a new federal government begin in Berlin. In an interview, Helmholtz President Otmar D. Wiestler explains what will now change for science.
Mr. Wiestler, exploratory talks are underway in Berlin, and a new federal government will be formed in the foreseeable future. What does such change of government mean for an institution like Helmholtz?

First of all, it has no immediate impact. And I mean that in a thoroughly positive way. We work independently and receive great support for our research across party lines. And the major challenges we will have to tackle together as a society, including politics and research, are clear: the fight against climate change, digitalisation, innovative health research or the pursuit of a more sustainable future. But of course I am curious to see with whom we will debate the important science policy issues of the future in the future.
Negotiations are underway on various coalition models - traffic light, Jamaica, GroKo. Do you favor one option because you hope it will bring about the most progress in the science sector?
It's not up to us to favor a coalition. All parties that could be considered for this recognize the importance of science for progress, whether it is scientifically, economically or socially motivated. After all, that became clear during the Corona pandemic. And it's also true for climate change and many other challenges. We agree with policymakers that it is important to optimize the transfer of our knowledge to the wider community, to pool our strengths and to make our cutting-edge research fit for the future. Only in this way will Germany remain a science location that is recognized worldwide, that remains highly attractive to talented people from all over the world and that regularly succeeds in making significant contributions to solving urgent questions.
To achieve this, what do you see as the most important steps in science policy that the new government must take?
Despite all the need for new directions, it is important to note that we already have a strong science system: We already have a strong science system. This is also due to the fact that policymakers have been focusing on this for years. If this continues, and I have no doubt that it will, we will be in a very good position. However, our system needs to be further developed in a number of areas. For example, we need to get fit for the age of digitization, where we have clearly fallen behind.
So you are calling for even greater digitization of science?
Yes. Like society as a whole, we now need a significant boost. Modern digital approaches can expand our knowledge base enormously. To generate new insights from the data, we need strong data centers with powerful supercomputers on the one hand, and a broad range of digital services for all fields of research on the other.
What do you mean by that?
It will not be enough to simply invest more money and personnel in research into new methods such as artificial intelligence. Rather, we need to bring these methods into use, and do so across the breadth of research. After all, data accumulates everywhere; just take the results of large expeditions such as MOSAiC or think of the enormous volumes of data required for the analysis and evaluation of intelligent mobility systems or extensive health data. Researchers working on innovative solutions in these areas need access to the best new digital methods. And they need to interact more with the information and data sciences. For this, we need joint research between the disciplines: regular exchange, interlinked training paths and, last but not least, methodological platforms.
How does society benefit when science becomes so digitalised- apart from the new findings?
It's not as if we simply pick up existing digital methods and then apply them. We are also continuously developing them in the research process. Whether it's new computer technologies, advances in artificial intelligence, or entirely new fields like quantum computing - fundamentally new solutions are emerging. If we succeed in transferring these to other areas of application, for example to the economy, then we are taking important steps toward greater technological sovereignty for Europe.
You indirectly mention international competition. Does the research location also have to change structurally in order to compete?
We have a favorable starting situation that we must consistently develop further. For example, the desire for a German Harvard, a German Oxford, is very old. In my opinion, however, it cannot be fulfilled in this way. We urgently need regional scientific beacons that attract the best, most creative minds in selected fields. However, I think we have to go our own way to achieve this.
What does this path look like in your opinion?
It builds on the strengths of our science system instead of trying to copy other systems. Germany's science is characterized by a high degree of distributed excellence. It is at home in different places and in many different institutions.
Doesn't that contradict the lighthouse character?
No. There are regional focal points that have a high level of excellence. Think, for example, of mRNA technology in Mainz, biodiversity research in Leipzig or quantum technology in Jülich and Munich. There are dozens of such examples. Cooperation within science but also with industry is already good. If we succeed in consistently strengthening this further in regional clusters and forming clear profiles that we then also represent confidently to the outside world, then we can establish numerous world-class locations. In selected research fields and building on existing strengths. That makes more sense and is less expensive than having a German Harvard in one place.
The key words are climate change and the ongoing extinction of species: The fight against this will be a societal challenge in the coming decades. What can research contribute to this?
I believe we must strive holistically for a more sustainable future. It's about protecting the climate, it's about protecting species, but it's also about a different way of dealing with resources. We should also see dramatic climate change as an opportunity to develop a highly innovative and sustainable energy, mobility or healthcare system. Sustainability in all areas of life must be the overarching leitmotif. And sustainability research can point to many solutions here, so it should be significantly strengthened. At the same time, however, we as research institutions must also question ourselves. Where can we become more sustainable?
And, where can you, where can Helmholtz become more sustainable?
For example, in our large research infrastructures. They are important focal points for cutting-edge research in an international context. At the same time, however, they almost all require a lot of energy. Think of particle accelerators, computing centers or research vessels. If we renew them in line with the sustainability goals, we could achieve a great deal. At the same time, we could test new technologies and strengthen innovative companies through contracts and technology transfer. We are therefore calling on policymakers to invest heavily in the resource-efficient conversion of research infrastructures and research campuses. Because it is good for a sustainable future, but also because it strengthens the science location.
Sustainability, digitalisation and profile building. That sounds like a lot of work. Is anything else missing?
We haven't talked about Corona yet. In the pandemic, health research impressively demonstrated what it is capable of. We need to build on this and prepare for coming pandemics, for example by building a national drug platform to gain knowledge faster and develop therapies as efficiently as possible. The development of highly effective RNA vaccines against the SARS-CoV-2 virus is, in my view, the greatest achievement of biomedical research in the past 50 years. We can learn important lessons from this success story. Without dedicated, decades-long basic research in areas such as tumor immunology of mRNA technology, this transfer would be unthinkable. Other important factors were sustained support from public and private financiers, courage to spin out, early partnership with pharmaceutical companies and regulatory authorities, and brilliant research personalities with creativity, courage to break new ground, and real entrepreneurial spirit. If we can continue to cultivate this spirit, Germany as a biomedical location can benefit enormously. For example, we could develop therapeutics much faster in the future. At the same time, I believe that the foundations for preventive medicine should be explored now, and our health research area is already making great strides in this area.
That's a lot of work. Do you still believe that the German science system is well positioned?
Absolutely. We see that in the pandemic, for example, I'll just mention BioNTech and the Mainz site; we see that in the fight against climate change and, for example, the research and development of green hydrogen. I could continue the list. Our science system delivers. That is also a result of the targeted investments and smart decisions of the past. But that doesn't mean we shouldn't still constantly ask ourselves what we need to improve further. Cutting-edge research thrives on brilliant minds, on an innovative scientific environment and on constant new departures. I see great opportunities for this in the next four years if we all tackle these tasks in a focused manner.