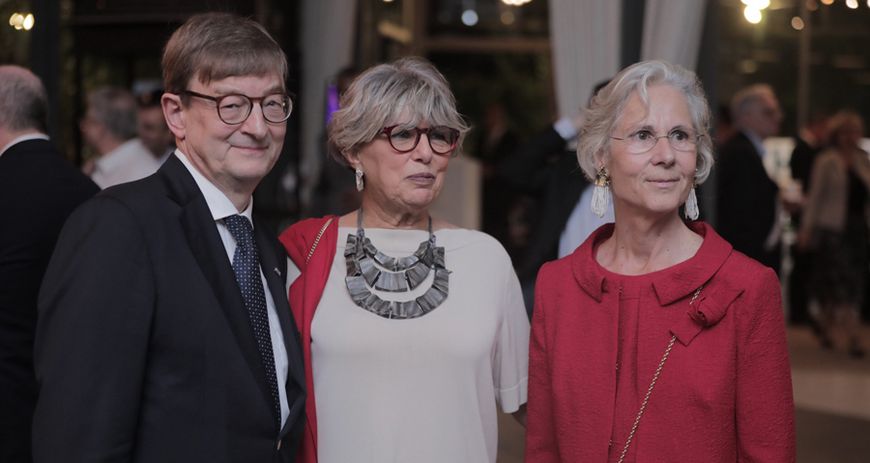 "Israel Has Incredible Momentum"
The Helmholtz Association has opened a new international office in Tel Aviv. With this step, Germany's largest research organization is seeking to take its cooperation with Israeli researchers and start-ups to a new level.
Bacteria are smarter than people. This is evident from increasing levels of resistance to antibiotics. We should therefore make a determined effort to advance antibiotics research. Otherwise, we run the risk of our health care systems backsliding to a level similar to before the development of antibiotics – that is to say, a point at which they are no longer effective. It was with this urgent appeal that Israeli Nobelist Ada Yonath opened the Helmholtz Association's scientific symposium in Tel Aviv on Monday. The meeting of almost 200 distinguished scientists took place on the occasion of the official inauguration of the new Helmholtz Office in Israel.
Alongside current health topics, there were also presentations on the latest developments from Helmholtz's other five research fields – such as how climate change can be observed at the Dead Sea, and the latest developments in the field of solar energy: all subjects on which Israeli and Helmholtz researchers are already collaborating successfully.
But it doesn't end here. The new office in Tel Aviv is expected to facilitate many more collaborative projects with the scientific community and business in the future. The office was officially declared open on Monday evening by Susanne Wasum-Rainer, German Ambassador to Israel, as part of the German embassy's celebrations commemorating the Day of German Unity. "We are very pleased that Germany's largest research organization wants to play an even more prominent role in Israel in the future," she said, addressing several hundred guests from the worlds of politics, business, and society. And the President of the Helmholtz Association, Otmar D. Wiestler, stressed that Germany's long-standing scientific cooperation with this highly innovative country in the Middle East should now benefit from fresh momentum.
The new Helmholtz Office will be the research association's fourth international branch. "We made a very conscious decision in favor of this location," Wiestler continued. "Israel has an incredible amount of academic and economic momentum." Israel is capable of cutting-edge research at a top international level in many areas of science, including medicine, chemistry, and physics as well as the environment and energy. "Our six research fields at Helmholtz offer numerous points of contact that will help us expand many of our existing collaborations – and establish new ones as well." Wiestler also believes that interesting links are waiting to be developed in the broad field of digitalization. "Areas like artificial intelligence and information security will grow in importance in all areas of life. Israel's researchers are among the best in the world in this field."
With a population of somewhat more than 8 million residents, Israel is a small country. However, it invests heavily in research and high-tech. The country dedicates more than 4.3 % of its gross domestic product to research and development, for example – one of the highest rates in the world. And these investments pay off, as evidenced by the fact that eight Israeli researchers have been awarded the Nobel Prize since 2002 alone. But the country doesn't just enjoy a top international ranking in the sciences. A start-up scene unlike any other in the world has also established itself here. There are said to be nearly 6,000 young companies in the area around Tel Aviv alone. "This offers academia many interesting opportunities for translating technology and expertise into applications even more rapidly," said Wiestler.
The new office is centrally located in Tel Aviv at WeWork Midtown, a co-working space. "This puts us in close proximity to the start-up scene," said Billy Shapira, Head of the new Helmholtz Office in Tel Aviv. Together with two other employees, Shapira will now be developing the Association's presence in Israel and laying the foundation for a fruitful cooperation. Over the past few decades, she has gained valuable experience and acquired contacts that will help her succeed in these efforts. Shapira has worked in the field of science management for more than four decades, primarily at Hebrew University in Jerusalem, where she most recently served as Chancellor and Vice President.Wiestler stressed that Helmholtz is very lucky to have her on the team.
The latest of the many scientific collaborations already underway between Helmholtz and partners from Israel was established in April 2017. It is a joint project with the Weizmann Institute called the Laboratory for Laser Matter Interaction (WHELMI), which aims to bridge the gap between basic and applied research in the field of laser particle acceleration. High-intensity lasers at the lab are to make it possible to observe extremely rapid chemical or biological processes. The technology will also be applied in radiation therapy to treat tumors. "Our hope now is that this showcase project will be followed by many more," said Wiestler.
Helmholtz to Open New international Office in Israel (Press Release)