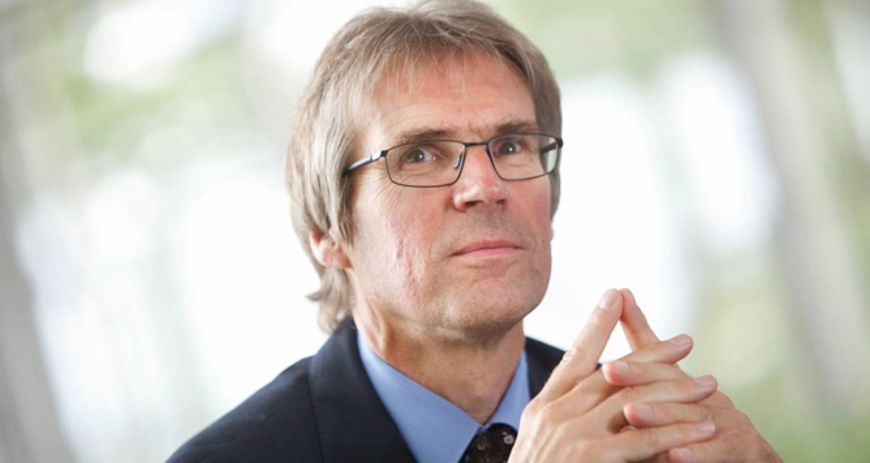 Portrait
Crossover scientist
His CV reveals how enthusiastic Holger Hanselka is about making allegedly incompatible things compatible. Thus it is no wonder that he was considered to be the perfect appointee for the position of Director of the research university in the Helmholtz Association. Holger Hanselka has been President of the Karlsuhe Institute of Technology for almost three years now. His ten-point plan is considered to be ambitious.
A lecture about fibre composites had changed everything. The mechanical engineering student Holger Hanselka was inspired. The topics for his diploma thesis and PhD dissertation in the field of metal operational stability at TU Clausthal had been actually determined much earlier. But on this summer day in 1987, his career followed a different path.

Hanselka plucked up his courage and spoke, with conviction, to the university professors. He promptly received an offer to produce his theses at the Deutschen Zentrum für Luft- und Raumfahrt in Braunschweig (German Aerospace Center) – on the topic of lightweight construction and fibre composites. The young mechanical engineer grabbed the opportunity. Thus Hanselka chose early on in his career to become a cross-border commuter between the fields and also between institutions. Metals on the one hand, and synthetic materials on the other. University here – large-scale research there.

"I was classically trained in iron and steel," Holger Hanselka confirms, today President of the Karlsruher Instituts für Technologie (KIT). "And it is actually so in the materials arena that the metal-workers are on the one side and the plastics-workers on the other – such a thing as a "dual-identity" expert is more or less an exception. " Hanselka says this with obvious pleasure in his eyes and a glance at his CV quickly reveals how enthusiastic he is about making allegedly incompatible things compatible. "Mixing natural fibres with synthetic resins – this is something we saw a long time ago with the Trabante automobile," testifies the trained engineer. "But manufacturing competitive, stabile fibre composite systems entirely from renewable raw materials – that was uncharted territory in the 80s, but today it's standard procedure for door panels in automobile construction, for example."

At the beginning of the 90s, Hanselka was so convinced of the viability of the technology that he founded a spin-off with two colleagues. Hanselka stayed active in his company for ten years – even while he was setting up the Chair for Adaptronics at the University of Magdeburg. Only after his shift to the Fraunhofer-Institut für Betriebsfestigkeit und Systemzuverlässigkeit LBF in Darmstadt did he transfer his holdings to the executive management at that time. In characteristic fashion he brought former students on board, whom he met at one of his lectures on fibre composite materials. "This entire phase was extremely important and formative for me," says Holger Hanselka. At KIT as well he puts his faith in the transfer of knowledge and technology. Hanselka is convinced: "We conduct research and learn as a service to society. This is because we want to make a contribution towards finding solutions for societal challenges – especially in the fields of energy, mobility and information. And this goes hand in hand with the business sector, so that ideas culminate in marketable products." As a university for entrepreneurs, KIT supports both employees as well as their students in the creation of spin-offs. KIT, for example, set up a new platform for crowd-funding. The KIT Campus Transfer GmbH handles service contracts from the business world. In the last two years alone, they were able to set up 27 start-ups.

Further milestones have moulded Hanselka's career as research manager, university professor and scientist. For example, when he transferred to the Fraunhofer-Gesellschaft in 2001, he was confronted with an out-of-date institute in terms of technology and personnel. Within 12 years he formed it into one of the flagships for the Fraunhofer Society with more than 500 employees, successful EU projects, collaborative research centres and close ties with the corporate world. The results from his scientific studies and technological collaborations can still be found today in wind power plants and helicopters, structures for automobiles and airplanes, space stations, headphones, crash helmets and violin bows. His responsibilities in the Fraunhofer Society committees and the TU Darmstadt taught him to observe dealings with large and complex structures from various perspectives.

Thus it is no wonder that Holger Hanselka is considered the ideal choice for leading a unique "dual-identity" institution into the future – KIT. The research university in the Helmholtz Association is unique in Germany and Europe. "Two parties on an equal footing have come together here," says Holger Hanselka in reference to the fusion of the University of Karlsruhe with the Karlsruhe Research Centre (FzK) completed in 2009. He has been President for almost three years now. His ten-year plan, which he presented only four weeks after his assumption of office, is considered to be ambitious. "Yes, the plan is bold," he openly admits. "But I am going on the assumption that I will have made a tick on all points once my first term of office has been completed," he adds with confidence.

A few points have already been taken care of: a joint umbrella strategy KIT 2025, a specific and joint organisational structure, a profile in research and teaching as well as a committee department for innovation and international affairs. Hanselka leaves no doubt that the awkward description "both university as well as large-scale research facility" no longer does justice to the Karlsruhe Institute of Technology: "The entire KIT is the research university in the Helmholtz Association, and our aspiration within the science sector is quality," he says.

Highly focussed, to the point, structured, clear and entirely at peace with himself – this is the impression that he makes on his partner in discussion. How can that be, considering such a gargantuan task and a regular 16-hour-day workload? "I work when it is necessary and until the task is has been completed," he describes his work ethic. "But I also provide for a healthy balance in the form of a private life that is characterised by family, music and holidays on a regular basis." He enjoys the anonymity in the symphony orchestra of the neighbouring municipality, in which he plays cello, and nature in his camping excursions, when his family frequently accompanies him. "Only sports have been neglected in recent years," he regrets. "That will change soon, since he'll be moving from the city into one of the high-country villages. I'm really looking forward to taking my hikes in the woods soon."