Research Field Energy
Global bottlenecks are predictable - in the reliable supply of energy and the safe disposal and treatment of wastes, residues and emissions. Helmholtz energy researchers are looking for solutions to meet the needs of present and future generations.
Insights into Research Field Energy
Here, we present projects currently being carried out by scientists at the Helmholtz Centres.
---
Geothermal energy: for a sustainable energy supply
Helmholtz Centre Potsdam – GFZ German Research Centre for Geosciences
Heat from inside the Earth is a climate-friendly source of energy that is available around the clock regardless of the weather. Southern Germany is home to a large number of geothermal plants that supply electricity and heat. In the northern part of the country, which has a somewhat different geological makeup, this potential is only beginning to be exploited on a rudimentary basis. GFZ is examining optimal methods for developing this resource at a research site in the Schorfheide region north of Berlin as well as at other locations. This region has two existing boreholes extending to a depth of 4 km, and these are now set to be joined by a further borehole. A largescale seismic measurement campaign was carried out in the spring of 2017 in order to find a favorable location for this drilling operation. Low-frequency acoustic waves can be used to identify hidden structures in the Earth's depths, similar to a CT scan of the human body.
Based on a wealth of measurement data, the team was able to create a virtual map of an 8-km by 8-km study area in the subsurface using sophisticated software tools. This revealed, for example, a salt pillow that made its way from deep within the Earth to the surface over millions of years, buckling and fragmenting adjacent layers of sediment as it moved. The new data significantly enhance researchers' ability to interpret structures in a three-dimensional space and thereby strengthen efforts to study and utilize geothermal energy.
Not only can the Earth's subsurface serve as a source of energy, it can store it as well. In November 2017, measurements providing insights into the hydraulic and geothermal properties of the layers of sediment were carried out at an exploratory drilling on the TU Berlin campus. These results can be used to assess whether certain layers would be suitable for the seasonal storage of heat. The experiences gleaned from the measurement project are also being used on an increasing basis for further projects with high-volume seasonal storage systems in urban areas.
GFZ also carried out research activities abroad, including the first geothermal low-temperature demonstration power plant in Indonesia, which was successfully put into operation in the fall of 2017. The plant in the village of Lahendong is run by researchers from Potsdam. There are plans to hand the project over to an Indonesian partner organization in January 2019. The versatile technology used here makes it possible to utilize wet steam reservoirs more efficiently and supply areas that are not connected to the network with decentralized energy.
---
Simplified method for storing hydrogen
Forschungszentrum Jülich
Researchers at Forschungszentrum Jülich and the University of Erlangen-Nürnberg have developed a method that significantly simplifies the storage of hydrogen as a source of energy. This method reduces the technical effort required to chemically bond hydrogen to organic carrier fluids by using a new type of catalyst for the charge and discharge processes. Applying this method in the industrial setting in the future could significantly reduce the cost and energy consumption of hydrogen storage – and could be a vital step for the energy transition.
---
Bent, not straight
Helmholtz-Zentrum Dresden-Rossendorf (HZDR)
Chemists at HZDR have created a uranyl compound with a unique basic geometric structure. In normal uranyl complexes, two oxygen atoms and one uranium atom form a linear, stable unit at a 180-degree angle. In the new substance, however, the atoms bend to an angle of 161.8 degrees – one of the smallest documented angles for this molecule thus far. The increased reactivity of the uranium center that comes about as a result of the molecule's structure can be used effectively for future syntheses of new compounds.
---
Second round of experiments on Wendelstein 7-X
Max Planck Institute for Plasma Physics (IPP)
Wendelstein 7-X, the world's largest fusion device of the stellerator type, at the Max Planck Institute for Plasma Physics has completed its first planned break for conversions. The plasma vessel has been clad with graphite tiles to make it ready for higher heating power and longer plasma pulses. New heating and measuring apparatuses were also installed. This has enabled researchers to conduct experiments that are confirming initial elements of the plant's optimized concept. Wendelstein 7-X is intended to investigate the suitability of this concept for application in a power plant.
---
Inexpensive, site-independent energy storage systems in the gigawatt range
German Aerospace Center (DLR)
DLR is developing the Carnot battery, a system for storing energy on the gigawatt-hour scale. Using a high-temperature heat pump, electricity is transformed into heat, which can be inexpensively stored in water (50 °C) or liquid salt (500 °C). The energy can be transformed back into electricity if required. As a result, a cycle-proof energy storage system can be made available at any desired location in the world. DLR is working on this tool for sector coupling together with industry partners.
---
Hydrogen from sunlight: "artificial leaf" with inexpensive metal oxides
Helmholtz-Zentrum Berlin für Materialien und Energie (HZB)
Metal oxides are inexpensive, stable photoelectrodes for splitting water using sunlight. Unfortunately, they exhibit only moderate levels of efficiency, but this can be increased using a heat treatment in a hydrogen atmosphere. An HZB team collaborating with international partners has now discovered that the heat treatment causes hydrogen to permeate the material. This reduces defects and doubles the "lifetime" of charge carriers, thereby boosting efficiency. The team's work has highlighted opportunities for enhancing photoelectrodes of this type.
---
Smiles tests the energy infrastructure of the future
Karlsruhe Institute of Technology (KIT)
As the energy transition progresses, the storage of renewable energy and its integration in decentralized networks is becoming increasingly important. Coordinated by KIT, the SmILES (Smart Integration of Energy Storages in Local Multi Energy Systems) project is linking expertise and research projects from European partners involved in the simulation, optimization, and utilization of such an infrastructure. The goal is to set up a platform where data and best practices relating to the integration of diverse energy sources and storage technologies can be exchanged.
Print Version
Contact
Prof. Dr. Holger Hanselka
Research Field Coordinator Energy
Karlsruhe Institute of Technology (KIT)
Dr. Lisa Suntrup
Chief Research Manager Energy
Helmholtz Association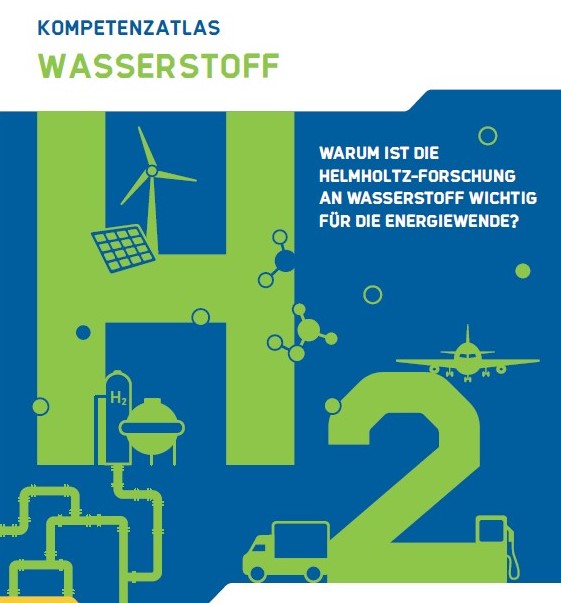 Around 600 employees at ten Helmholtz Centers are researching hydrogen technologies. The Competence Map Hydrogen summarises the extensive research activities.