Interview: "A radical change"
How does digitalisation change the world of science? We spoke to Lambert Heller from the Open Science Lab about Open Access, the Impact Factor and a new operating system for science.
---
Portrait: Learning to understand cancer
Ulrike Stein, research scientist from Berlin, has discovered a gene that is responsible for the growth of tumours. Will this make cancer more predictable in the future?
---
Greenhouse gas: How to calculate emission rates?
Which country produces how much greenhouse gas? At the Climate Chance Conference in Lima, politicians will again negotiate the reduction of the annual emission rates. But where do those numbers come from? Who verifies them? A report.
Tsunami: The crucial 5 minutes
Ten years ago a tsunami in the Indian Ocean claimed hundreds of thousands of lives. In the mean time, research scientists have constructed one of the most modern tsunami warning systems in the world. It is meant to give the inhabitants there enough time to flee.
---
Print Version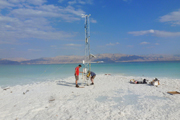 HELMHOLTZ extreme: The lowest-elevation meteorological monitoring station in the world
At the shore of the Dead Sea, the lowest-elevation meteorological monitoring station in the world is situated.