Helmholtz Horizons 2019
Climate Change - From Knowledge to Action
Extreme weather systems, rising sea levels, changes in ocean geo- and biochemistry, species extinction, poor air quality; the devastating impacts of climate change caused by increased levels of atmospheric CO2 are already being felt by ecosystems and societies across the planet. Now, rapid, coordinated and wide-scale action is urgently needed if complete global climate breakdown is to be avoided. But how do we move from knowledge to action?
At Helmholtz Horizons 2019 our scientists will present their innovative research and bold visions, stimulating exchange and debate to tackle the greatest challenge of our time.
Find out more on our event-website: www.helmholtz-horizons.de
These are the speakers 2019 at the Helmholtz-Horizons Symposium:
A highlight of the event will be the Helmholtz Doctoral Prize 2019, which will be awarded to our highly promising research talents. Come join us and engage in a stimulating dialog with our presenters, researchers and a broad range of representatives from science, policy and industry! More about the previous prize winners here.
The Helmholtz Horizons Symposium will be held in Berlin on 6 November 2019.
Please save the date with invitations to follow in September.
Official program: 12 am - 5.30 pm
Location: FUTURIUM, Alexanderufer 2, 10117 Berlin
If you want to join the event and become part of the horizons-community write us: event(at)helmholtz.de
Find out more on our event-website: www.helmholtz-horizons.de
We look forward to welcoming you to this unique event!
Offer for your Travel: Bahn-Saver Fares
The Helmholtz-Association offers saver-fares for your fast, affordable travel to our events in Germany, including on board ICE trains.
Event-ticket (Saver-Fare)
When booking your ticket, you select a specific train (ICE, IC/EC) that you will use on the day of your journey. Your ticket is valid only for the train and on the date that are printed on it. (subject to availability):
1. class € 79,50
2. class € 49,50
Flexible Event-ticket (Flexpreis)
The original German name of the ticket is "Flexpreis". To book a flexible fare, select "Flexpreis" on the Travel Information page. (always available):
1. class € 99,50
2. class € 69,50
Validity period for single journeys is 1 day. The ticket is valid on the day specified on the ticket.
Simply enter the requested route and date of travel and select your preffered offer.
Helmholtz Horizons 2019 is part of the event "Berlin Science Week". The BERLIN SCIENCE WEEK is an international gathering, bringing together people from the world's most innovative scientific institutions in Berlin. It is dedicated to the dialogue between science and society to inspire a deeper understanding of our world. The Berlin Science Week fosters interdisciplinary exchange and encourages fellow participants to connect and learn from each other.
Nature is an official partner of Helmholtz Horizons. NATURE is the world's leading multidisciplinary science journal.
Print Version
Contact
Christin Liedtke
Science Communication / Event Management
Helmholtz Association

Elena Wilkniß
Research Marketing & Event Management
Helmholtz Association

Berlin Office
Anna-Louisa-Karsch-Straße 2
10178 Berlin
+49 30 206329-54
Désirée Duray
International moderator, tv and event host
Nature is the official partner of Helmholtz Horizons. It is the world's leading multidisciplinary science journal.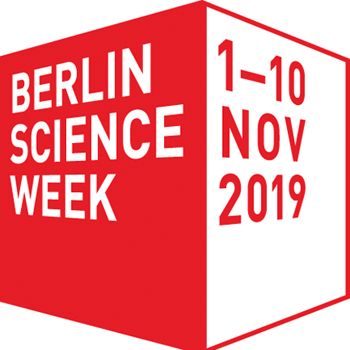 Helmholtz Horizons participates in the Berlin Science Week from 1-10 November 2019.