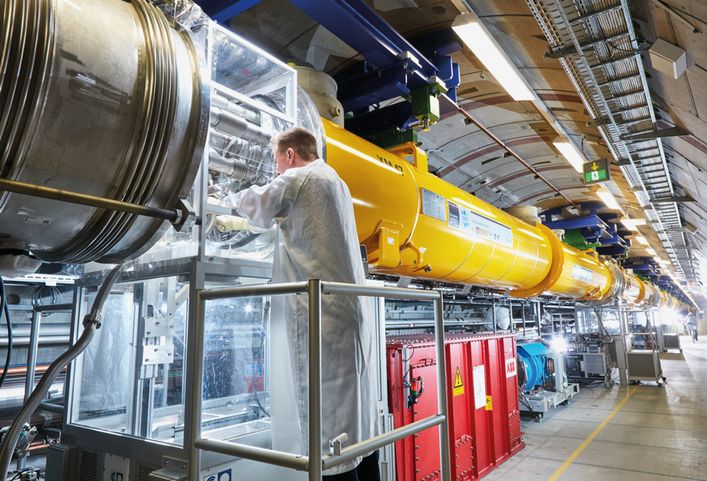 The Helmholtz Centres have numerous unique research infrastructures at their disposal – from laboratory rooms, experimental stations and computer centres, to research ships for coastal, high-sea and polar experiments, to particle accelerators and reactors for the production of photons, ions and neutrons – that offer an excellent experimental basis for both internal Helmholtz Association research and users from all over the world.
The Helmholtz Association research facilities are exemplary for division of responsibilities within the German scientific system and cooperation of the Helmholtz Association with German and foreign universities and research facilities. Helmholtz Centre general guidelines determine the basic principles within which the university and non-university participation by third parties regarding the utilisation of research infrastructures takes place.
Large-scale research infrastructures can be found in all six of the Helmholtz Association research fields. The Helmholtz Association research facilities are as diverse as their research, and many of the technological performance capabilities of the facilities are unique.
In the following, the active Helmholtz Association research facilities are listed that offer dedicated user-operation for third parties, i.e. for researchers from Germany or from foreign countries – for the most part from university or non-university research facilities.
Helmholtz-Roadmap for research Infrastructures
Development, construction and operation of the scientific large-scale facilities at Helmholtz Centres for an international user community are a core element in the mission of the Helmholtz Association. An important planning basis for development of the research infrastructures is provided by the Helmholtz Roadmap, within which the Helmholtz Association lays out their current planning regarding the scientific large-scale facilities and infrastructures.
In 2011 the Helmholtz Association presented for the first time their research-field-overlapping Roadmap for new research infrastructures. In the meantime, there is an updated version that includes both the development and decision-making processes since 2011.
To Publication Helmholtz-Roadmap for Research Infrastructure
(copy 1)
[Translate to Chinese:]
The Helmholtz Roadmap serves as a basis:
for discussing the strategic planning with the sponsors. It therefore forms a cornerstone for binding planning within the BMBF [Federal Ministry of Education and Research] processes, e.g. for preparation of a national roadmap.
for consultations on the strategies for financings, setup and operation of the research infrastructures using already-formulated evaluation criteria and processes (i.e. using precise timescales and budgets, summary cost estimates, setting priorities, including the planning for closures/switch-offs and [new] structuring of the management for these infrastructures),
for independent assessment of the research infrastructures by the Science Council, if applicable,
for concrete consultation with the user community,
and not least, for the ongoing discussion within the Helmholtz Association itself, for regular revision and updating of the Association's research portfolio, as well as the infrastructure planning.
Print Version
科研设施
Accelerator facilities, experimental facilities, research ships or supercomputers - large-scale research facilities form the basis for scientific advances in tackling global societal challenges. Managing national research infrastructure is part of the Helmholtz Association's mission.